World Cup 2104: Bob Bradley proud of Pharaohs' unity
By Matthew Kenyon
BBC Sport, in Cairo
Last updated on .From the section Football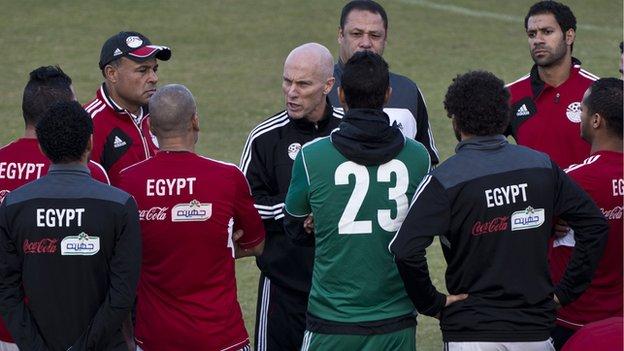 Egypt coach Bob Bradley says his team have been an example of unity and strength to "a divided country" throughout their 2014 World Cup qualifying campaign.
But the American coach says they will "give everything they have" in Tuesday's second leg.
"Egypt at the moment sadly is a divided country and I told [the squad] we must be different, we must be united," Bradley said.
"We must find a way where we can not only be strong as a team but maybe be a good example for everyone - and that is still what we are all about."
Bradley's contract is due to finish after the qualifying campaign and, understandably, he was in reflective mood.
"The last two years have been a challenge for everyone in Egypt," the coach said of the continuing political turmoil in the country.
"I see that with the people I meet. It's a challenge if you're a taxi driver, if you're in tourism, if you're a father trying to take care your family. I'm proud to have been here during these two years."
The 55-year-old also thanked backroom staff and players, in what at times sounded like a valedictory speech. And he singled out star midfielder Mohamed Aboutrika for his determination and commitment.
"We're blood brothers - he's a good man," the coach said of Aboutrika. "I couldn't be prouder to have anyone on my team - I have coached great players and he would be up there with any one of them."
Whatever the outcome of the match against Ghana, Tuesday will be a significant day because the Egypt team will have the chance to play in front of their home fans in Cairo for the first time in nearly two years.
Supporters have been banned from attending international matches and virtually all club games following the Port Said riots at a match in February 2012 between Al Ahly and Al Masry which caused the deaths of more than 70 fans.
And the social and political unrest in the country since the ousting of President Morsi has prevented that ban from being lifted.
But Fifa ruled - despite Ghana's protests - that Egypt have given sufficient security guarantees for the game to go ahead at the military-owned 30 June Stadium.
"It's incredible that I've been here for two years and not had the opportunity to have our national team play in Cairo in front of all the fans," Bradley said.
"[Returning to Cairo] means a lot to the players. I think they deserve this, they've earned this and we hope to feel the passion and support of the Egyptian fans in the stadium and all the ones who can't make it."