Ghana satisfied with Cairo security for Egypt play-off
Last updated on .From the section Football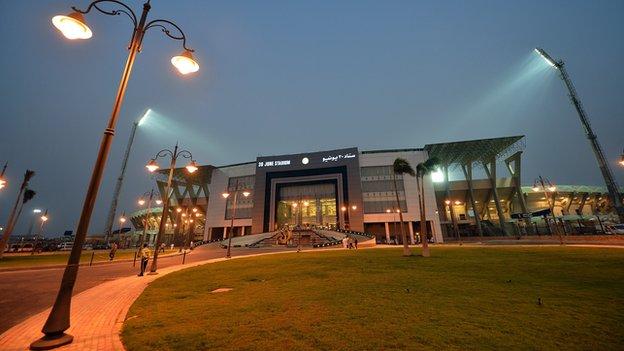 The Ghana Football Association (GFA) says it is now satisfied with the security plans for Tuesday's play-off second leg against Egypt at Cairo's 30 June Stadium.
The meeting, which was presided over by Fifa Security Office Dr. Bolaji Ojo-Oba, was attended by officials of the Egyptian Ministry of Interior, the Egyptian military, Ghana's ambassador to Egypt H.E. Said Sinare, GFA president Kwesi Nyantakyi and Ghana's security delegation and the Egypt FA.
The parties received a detailed 16-point security plan, covering transportation, hotel security and around-the clock protection for the teams, as well as security measures for fans and journalists.
The GFA announced on Monday that it had reviewed the plan and was satisfied that "adequate measures are in place for the security of our players, officials and supporters for the match".
Fans have not been allowed to attend an international match in Cairo for almost two years - following the Port Said riots that caused the death of more than 70 fans as well as the political and social unrest in the country since the ousting of President Morsi.
Ghana beat Egypt 6-1 in the first leg of the play-off in Kumasi last month, putting them on the verge of qualification for next year's tournament in Brazil.