Fleetwood: Graham Alexander angered by officials' displays
Last updated on .From the section Football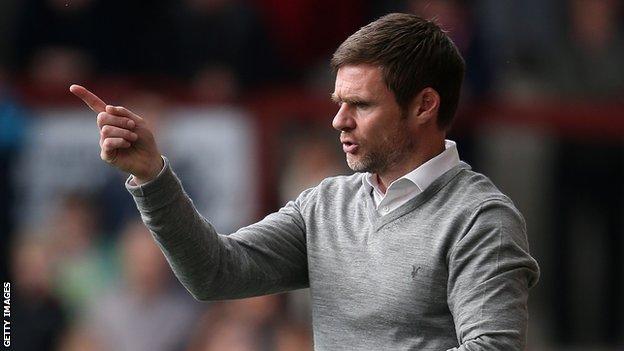 Fleetwood manager Graham Alexander wants more consistency from officials and says he is becoming frustrated with decisions going against his team.
Alexander made the comments after a on Saturday, the only goal coming from a disputed free-kick.
"I've gone through the right channels and you get nothing back," the 42-year-old told BBC Radio Lancashire.
"What you do get back - it's a waste of time. I won't be doing it again."
Fleetwood's disappointment at losing so late at Sixfields was couimpounded by a shoulder injury suffered by striker David Ball following a challenge by Northampton's Mathias Kouo-Doumbe.
Alexander agreed with the subsequent punishment of a yellow card for the Cobblers' centre-back, but was not happy that three of his own players were booked for what he considered to be less serious offences.
He went on to give several examples of matches where he felt Fleetwood had been hard done by, including Ball needing four stitches in an eye wound during a Football League Trophy victory at Tranmere in September and the incident going unpunished.
"We're not a dirty team," Alexander added. "It's a competitive game and we're not afraid of competitive games because we're competitive ourselves, but what I see is our team getting three bookings and that was their [Northampton's] only booking.
"I don't get it. The same happened the other week against York. It's going on too often. If that [Ball's injury] happens and we draw the game, which we should have, we're still angry about it."
Fleetwood's loss at Northampton saw them drop from top to fourth in the League Two table.
Luke Norris scored the only goal, from a free-kick which Alexander felt should not have been awarded.
"The lads are telling me that the linesman gave it," he said. "If he can pick out a foul with 20 players within a 15-yard area, and pick out a foul that no one's claiming, he must have brilliant eyesight."