South Africa angry with Fifa over match-fixing enquiry
By Mohammed Allie
BBC News, Cape Town
Last updated on .From the section Football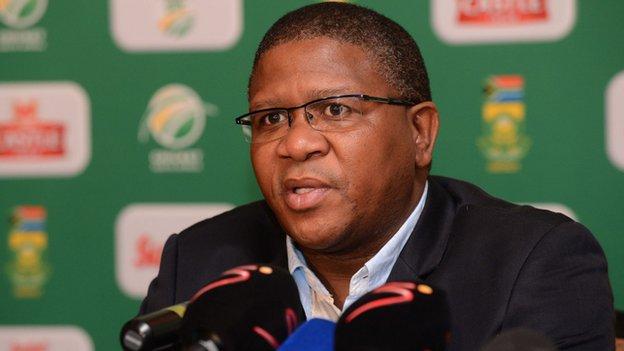 Fifa and South Africa's Minister of Sport, Fikile Mbalula, are on a collision course following last week's announcement by Fifa secretary-general Jerome Valcke that football's world governing body would be taking over the proposed investigation into allegations of match-fixing.
The South African government was to launch a judicial enquiry into allegations that South Africa Football Association (Safa) officials had co-operated with Football 4U, a betting syndicate run by Raj Perumal - a Singporean who was convicted by Singaporean authorities of match fixing in 1995 and again in Finland in 2011.
Initially five senior Safa officials, including then-president Kirsten Nematandani, were suspended last December following a Fifa report which claimed the officials had colluded with the syndicate in appointing compliant referees to handle five of Bafana Bafana's pre-2010 World Cup friendlies.
The suspension was overturned two weeks later after which the government promised to launch the commission of enquiry.
Fifa said in a statement that Michael Garcia, chairman of the organisation's ethics committee investigating chamber, had already started preliminary investigations because the South African government had not as yet made any progress with starting the proposed judicial commission of enquiry, seven months after it was agreed it would and over three years after the suspicious matches.
Fifa said Garcia "has decided to open a preliminary investigation on the alleged cases of match-manipulation in South Africa in view of the time elapsed" since South Africa had initially agreed to start its own probe.
However, Mbalula told the national broadcaster SABC: "Jerome Valcke and Fifa have no jurisdiction over South Africa. This is not a banana republic.
"The Fifa investigation doesn't stop what the SA government's enquiry is hoping to achieve. Their arrogance and pettiness will not make us to cower to asserting the principle of the sovereignty of our people and the right to take our own decisions.
"We are going ahead with our plans and are not going to take orders from Jerome Valcke."
Mbalula said he was awaiting comment from President Jacob Zuma before proceeding with the investigation.
"The matter is with the president who will table a report in relation to the recommendations we have made and we will engage Safa and everybody in relation to what we want to do," he added.
The match-fixing allegations were first made in a report compiled by Chris Eaton, Fifa's former Head of Security, following a request by Safa in October 2011 for Fifa to follow up on speculation that Bafana Bafana's pre-2010 World Cup friendlies may have been subject to manipulation.