Scotland must maintain hard work - Gordon Strachan
Last updated on .From the section Football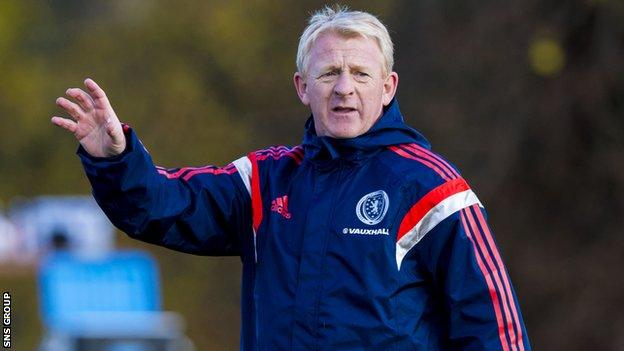 Manager Gordon Strachan once again stressed the importance of collective hard graft as Scotland prepare for Tuesday's friendly in Norway.
"Some teams can spend a lot of time without the ball if they have a real match-winner," said Strachan.
"We don't have that at the moment. Everything we do, we have to work together for it."
Scotland struggled to create many chances in front of goal on their last outing but successfully stifled Jurgen Klinsmann's men, who are ranked 13th in the world.
When asked if he would adopt a more attacking style in Norway, Strachan said: "We all want that - everyone in international football.
"If you gave me [Gareth] Bale, [Lionel] Messi and [Cristiano] Ronaldo, I'd give you that.
"Unfortunately, we have to work a little harder than that because we don't have that individual ability.
"We have to do a lot more than certain teams."
Strachan was pleased with the way Scotland coped with the power of the USA at Hampden and is anticipating another physical contest.
"The USA were big, big boys and, again, Norway are strong lads," he explained.
"We dealt with a lot of what they [USA] had.
"We'll take into consideration how Norway play but the stuff we've been working on is about what we are going to do with the ball.
"We have a couple of systems that we want to play and anyone coming in has to adapt to those.
"We don't have a player where we have to adapt to them.
"If you have a top, top player, you can work your system around him."
One of the players coming into a squad beset with injury call-offs is Kris Boyd, with the experienced Kilmarnock striker returning from a three-year absence from the international scene.
Dundee United midfielder Stuart Armstrong is another who has benefitted from the many withdrawals and Strachan insists he will continue to keep an open mind on his selections.
"I watched the Under-21s and from that we've asked Stuart to come along and join us because he did very well in spells in that game.
"There are other players where we think 'yes, you're nearly there; we'll see how you're doing in three months' - that's the challenge.
"Do you want to be in this squad? Because it's open to anybody. Age is no barrier - whether you are 17 or 33.
"You've got to do well for your club first and the Scotland thing takes care of itself.
"That's what Kris has done. He has had a good month and he looks good."