England v Germany: Joe Hart steps back into spotlight

By Phil McNulty
Chief football writer
Last updated on .From the section Football585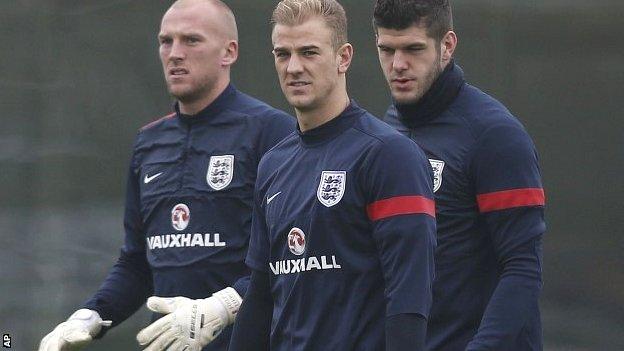 In the space of nine seconds at England's London Colney training headquarters, Joe Hart gave manager Roy Hodgson exactly what he wanted to see.
Under the guidance of his coach Dave Watson, Manchester City's deposed goalkeeper demonstrated the athleticism, agility and reactions that still make him Hodgson's undisputed first choice for England's opening World Cup game in Brazil next summer.
Three swift saves, two high to his left and one down low, concluded with applause from Watson and fellow England keeper John Ruddy as they admired a demonstration of the qualities Hart's admirers know he has at his command.
This, however, was the behind-closed-doors test. The real examination comes on Tuesday night in front of a crowd touching 90,000 , a team rich in talent and depth and already being touted among the serious contenders for next summer's World Cup in Brazil.
It is there, in a more unforgiving arena, that Hodgson will want reaffirmation of his so far unshakeable faith in a goalkeeper whose decline at club level gathered speed to such an extent this season that he was eventually replaced at Manchester City by Costel Pantilimon.
Hodgson's trust in Hart is based around the keeper's reliability for England. He has rarely let Hodgson down and was responsible for a crucial save from Poland's Robert Lewandowski with England holding only a slender 1-0 lead in their decisive World Cup qualifier.
Hart is an outstanding goalkeeper who has lost his way and a portion of his confidence. Hodgson's public support suggests he is certain this is only a temporary state of affairs.
The manager, however, will still be keen to see Hart showing signs of reassembling his confidence on Tuesday. Excellence on the training field is one thing - repetition under pressure at Wembley is another.
Hart's slump, which happened over a lengthy period of time but really took hold this season, has given Hodgson a concern he could barely have contemplated towards the end of England's World Cup qualifying campaign.
It is a worry he will want eased as swiftly as possible, which is why Hart's work will be closely scrutinised at Wembley.
Of all the selection dilemmas Hodgson expected to be wrestling with ahead of Brazil, goalkeeper was not one of them. England's stock is hardly bare but it is still clear that Hart, at his best, is comfortably the preferable option.
Celtic goalkeeper Fraser Forster was blameless in England's defeat to Chile but did not show the command to scream out that he was a perfect replacement for Hart. Norwich City's John Ruddy will be frustrated to have missed out on pressing his claims over these last two games.
West Bromwich Albion's Ben Foster, admired by Hodgson after their time together at The Hawthorns, is a good bet to become Hart's eventual understudy while the emerging youngster Jack Butland has been frustrated by lack of top-flight game time since his move to Stoke City.
Hart is still the man in possession but Hodgson will want to see him produce his best for England and also win back his club place as soon as possible.
Manchester City's goalkeeper is not the only England player under the spotlight as Hodgson's side attempt to avoid the first international back-to-back defeats at Wembley in 36 years after Friday's 2-0 loss to Chile.
Tottenham's Kyle Walker gets a chance to show he can rival Liverpool defender Glen Johnson at right-back, while on the other side Chelsea's Ashley Cole has the opportunity to reassert his authority over Everton's Leighton Baines, who had a poor night against the Chileans.
Hodgson is poker-faced over the left-back position, which has become a bone of contention, but the suspicion remains that Friday was a good night for Cole as Baines performed poorly in defence, the area where his rival is regarded as having a crucial edge.
And for Manchester United's Tom Cleverley, this has to be the time to make his mark against quality opposition or the doubts about his ability at the highest level - for club and country - will continue to be questioned.
Cleverley's selection is usually met with a wave of indifference, or sometimes simply hostility, by many supporters who question what he offers in midfield. On many occasions it has been an understandable, valid response.
And yet here is a player who won favour with Sir Alex Ferguson and is regarded highly by Hodgson, so they clearly feel that inside this often peripheral figure is a quality player waiting to get out.
Cleverley, though, needs to produce something better than he has been if he is to be a serious contender for Brazil. A Wembley occasion against Germany is the ideal stage - not exactly make or break, but a fair measure of whether he deserves the glowing reputation many within the game give him.
Has he yet produced the evidence to suggest he can be a significant figure for United and England in years to come? No.
Southampton's Adam Lallana gets a second chance after a fine debut, hoping to join Hodgson's list of midfield options.
But it is elsewhere where the pressure is on. It is on men like Hart, Walker, Cole and Cleverley. And they are up against opponents who are masters of playing on those pressure points.