Oldham: Simon Corney says Marwan Koukash will not buy club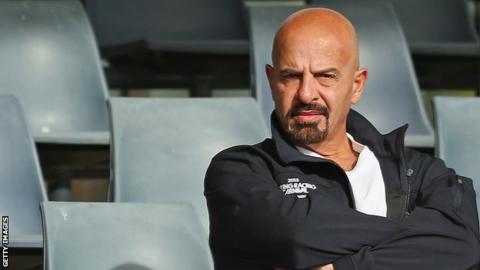 Oldham chairman Simon Corney has confirmed that he will not be selling the League One club to Marwan Koukash.
Koukash, the owner of Super League's Salford Red Devils, and the town's rugby league side, Oldham Roughyeds.
He planned to build a new stadium at which both clubs would be based, but Corney told BBC Radio Manchester he wants Oldham to stay at Boundary Park.
Work is under way to build a new stand that will cost in excess of £6m.
Corney said: "I think the issue he [Koukash] had was that he would want to move somewhere else and build a brand new stadium that would incorporate the rugby.
"That's fine, and actually that's a very good idea, but it didn't appeal to me because I've been here for 10 years. Of those 10 years, I've spent seven trying to build a new stand.
"It's come to fruition and it's not a small stand. I'm not prepared to stop now and wait for someone else to 'perhaps' get a new piece of land, 'perhaps' build a stand, and it may or may not happen.
"The fans deserve to have a stadium where they can be proud to come. We're there, we're good to go and I'm not going to stop."
Koukash, a successful racehorse trainer, saved Salford from financial ruin in January and has changing their name from Salford City Reds.
In addition, he has published ambitious plans to develop the area around the AJ Bell Stadium, formerly known as the Salford City Stadium.
He tweeted: "Would like to wish OAFC all the very best for the future and with their current plans."
Corney, who said he had not spoken with Koukash for around six months but described him as a "wonderful fellow", repeated his stance regarding financial investment in the Latics.
"It doesn't matter which division and whatever our status is - if the right person came along and had the interests of Oldham at heart, I would always welcome them in, but it has to be the right person," he said.
"It's been well documented over the years that we've had one or two people come along that I didn't feel were the right people, and I turned them down. It's not always just about money. It has to be the right guy."
at Molineux for a place in the FA Cup second round on Tuesday.
Hear the full interview with Oldham chairman Simon Corney on BBC Manchester Sports via the BBC iPlayer until Monday, 25 November.