MLS newcomers Orlando City target Kaka signing
Last updated on .From the section Football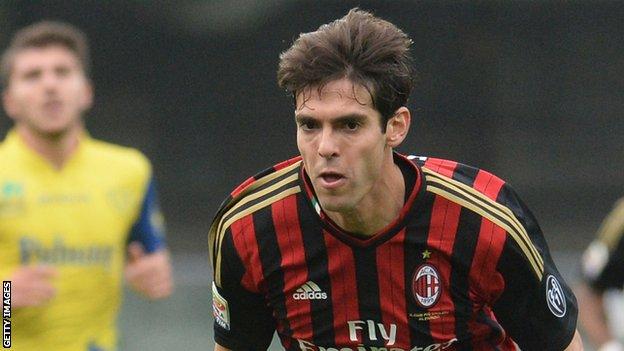 Major Soccer League's newest franchise Orlando City have suggested they might try to lure Brazilian footballer Kaka to the Florida club.
The Lions will enter the MLS for the 2015 season with midfielder Kaka's deal at AC Milan set to end that year.
"Every team would love to have Kaka, but we have no agreement with him," Orlando's Brazilian co-owner Flavio Augusto da Silva told BBC Sport.
"We have a plan to sign a Brazilian star in 2015. This is our priority."
He added: "It might be Kaka or somebody else."
The club, set to become the 21st MLS franchise, is managed by former Everton striker Adrian Heath and is currently competing at minor league level.
Orlando City's other co-owner, who is also the founder and president, is Phil Rawlins, a director at Stoke.
"It is a dream to bring Major League Soccer to Orlando," said Rawlins.
"The fans in Orlando have clearly demonstrated that they are ready for MLS, and we look forward to celebrating with them and working together to set a new standard in this country.
"We have watched the evolution of Major League Soccer, and we are thrilled to join what has become one of the fastest growing and most exciting leagues in the world."
The MLS currently has 19 teams, with New York City - which is a joint venture between Manchester City and baseball giants New York Yankees - also set to join the division in 2015 as the 20th competitor.
Former England midfielder David Beckham played at LA Galaxy and has stated his intention to set up a MLS franchise in Miami.
The league hopes to expand to 24 clubs by 2020.