Everton v Liverpool 'like being in a bubble' - Kevin Kilbane

By Kevin Kilbane
Played in five Merseyside derbies for Everton from 2003 to 2006
Last updated on .From the section Football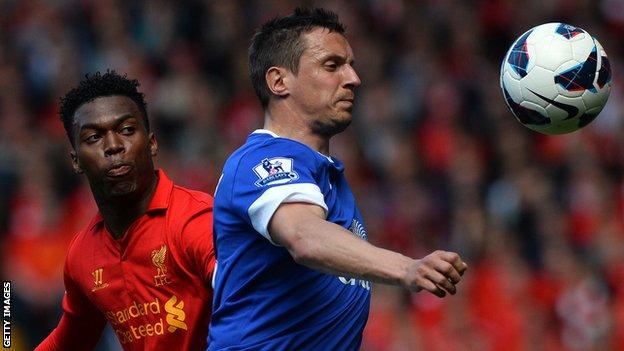 Playing in a Merseyside derby is like being in a bubble. What has happened before, and what might happen afterwards, just does not matter - all you care about is the here and now.
It is a game where you can be so caught up in the heat of the moment that you can lose all sense of your surroundings, and any sense of the consequences of your actions.
I played in five derbies for Everton, and I can understand why there have been more red cards - 20 - in this fixture than any other in the Premier League era.
I remember when we had Phil Neville and Mikel Arteta sent off in the second half of a crazy 3-1 defeat at Goodison Park in December 2005. Then Steven Gerrard saw red after 18 minutes at Anfield the following March.
All three of those red cards were for second bookings, after they carried on going for challenges when they would normally have been more careful after getting a yellow card - Gerrard's second foul was actually on me.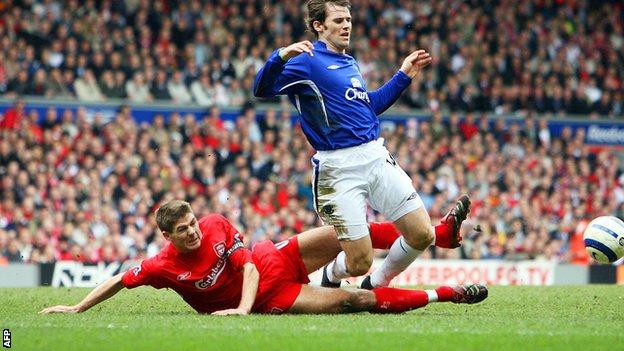 My advice to the players who will line up at Goodison Park on Saturday would just be not to do anything stupid. But I know how hard it is to keep calm when the atmosphere is so intense - it makes people do things that are out of character.
In the 1980s, the Merseyside derby was considered 'the friendly derby'. Having played in it, I certainly wouldn't call it that.
I have seen first hand what it means to both win and lose. Every tackle is cheered like a goal, with both sets of players having little time to take more than one touch without being clattered by an opponent.
When he was Everton boss, there was never any need for David Moyes to say anything different to us before the game. He was very intense no matter who the opposition were, but the players already knew how important the derby was.
As an Everton player, I read the papers and the internet and I could not help getting hyped up. It will be the same for both teams this time.
Even two or three weeks beforehand, all the other games seem to be referred to as "leading up to the derby". So it is always in the back of your mind.
Then, in the days before the game, the build-up in the media means you are even more tense and more focused because you become increasingly aware of how relevant this single game can be to your whole season.
If the game was at Goodison Park, the occasion started as soon as I arrived at the ground. The match-day staff around the stadium were all Everton fans and they would be geeing us up and wishing us well, far more than usual.
On the day, Moyes would not change his style. But the rest of his immediate backroom team would.
What was unique about them, compared to other clubs I have been at, was they were all lifelong fans of the club they worked for, from the kit men to the press officers to the masseurs. They were all tuned in and hyped up because we were playing Liverpool, and always relayed the message of how important this game is to their club and its fans.
Some players may see this as a bad thing, adding to the pressure and tension, but I believe it is why Everton is a truly special club which has a real bond with its supporters. And it definitely made a difference to my mind-set.
I played in more than 600 professional games yet, when I look back on my career, there are very few games I can clearly remember. I can only recall moments of matches because I was trying to stay focused.
But I do remember that the bigger games did have a different feeling. Especially the derby.
From the warm-up to the manager's team-talk to when you step out on to the pitch, more than ever I wanted to do something positive early on as an individual to influence the rest of my game.
Of course, the opposing players are thinking the same. You know these games can change your season, or even make up for a bad campaign. That is why they are so intense.
It is the same with other derby clashes. While growing up supporting Preston North End, I felt the only game that mattered was the west Lancashire derby against Blackpool.
I travelled to Bloomfield Road as a fan during the 1992-93 season, when Tony Ellis scored a hat-trick, and that was the only talking point at school for a number of weeks after.
I was fortunate to play in the fixture once, during the 1996-97 season, while a player at PNE. The tension in the town seemed to be building weeks in advance but, of course, we had other games to concentrate on first. When the game came around, we managed to win 3-0; a big highlight during not only that season but also my career.
I played in the Black Country derby between West Bromwich Albion and Wolverhampton Wanderers six times while playing for West Brom, winning three and drawing three. From the day I arrived in the Midlands, the only game fans would talk about was this one. Only a few members of the staff immediately around the team were true WBA fans, but the level of interest in and around the club was immense long before the actual fixture.
The wins were usually massive highlights of largely unimpressive seasons, which petered out into mid-table finishes without us ever really challenging over sustained periods for promotion from the second tier.
The Tyne and Wear derby is another game of huge importance, not just to the clubs involved - Newcastle and Sunderland - but to the whole of the North East of England, which I didn't really grasp until I signed for Sunderland. I didn't manage to have as much success playing for Sunderland as I'd had in the Black Country derby, but I did realise what it meant to both win and lose a game to such passionate supporters.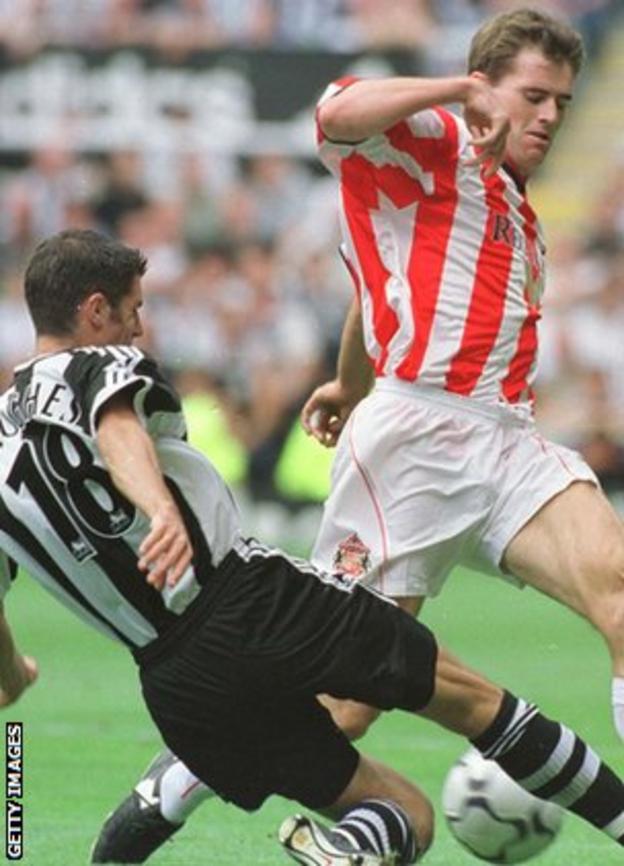 Of course, winning, no matter how ugly it sometimes is during these tense derbies, is an incredible feeling. Especially when you see the delight on your supporters' faces.
That delight may even buy you a few weeks' respite if your own, or the team's, form isn't great in the following weeks. A few losses in and around a derby can quickly be forgotten if you win the big one.
Winning the Merseyside derby 1-0 in 2004-05 became a springboard for Everton's success that year. The win generated a massive feel-good factor around the club leading up to a tough Christmas period. It gave us the belief and provided the platform for us to go on and pip Liverpool to fourth place in the Premier League.
That is why derby games can be so vital to a club's season.
The result of Saturday's game at Goodison Park will not have the same impact on the title it once had, when both Merseyside clubs were vying for more than just bragging rights from their city's big match-up, but the good start both sides have made to the season gives it an extra edge.
And I feel the two-week Premier League break because of international fixtures will only add more tension to Saturday's game at Goodison Park.
Liverpool, second in the table - three points and four places ahead of Everton, come into the game off the back of a 4-0 home win against Fulham. In Luis Suarez and Daniel Sturridge they have one of the best forward pairings in world football, and a win would really give them belief they can challenge for a place in the top four.
For Everton, it's a chance to keep up with the pacesetters and challenge for a place in Europe next season. In Romelu Lukaku they have a player in great form this season. And Ross Barkley, just behind him, is a player who can change a game in an instant.
The way Everton and Liverpool have played this season, it's likely that at least one of those four players will dictate the outcome of the game and, with the other quality players at the disposal of managers Roberto Martinez and Brendan Rodgers, we could be in for a classic.