Fabrice Muamba: Happy with life after football and eyeing journalism

Last updated on .From the section Football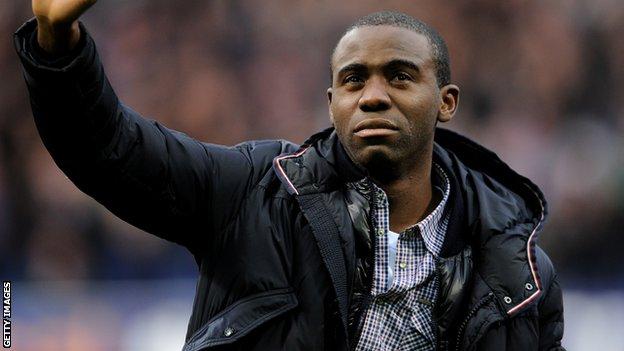 Fabrice Muamba has never watched the moment he "died' in front of 36,000 football fans and millions more watching on television.
He now refers to the 78 minutes when his heart stopped in March 2012 as "my incident".
The story of the Premier League footballer who went into cardiac arrest during an FA Cup quarter-final and recovered to tell the tale went around the world, of course.
But what happened next? At first, things were "difficult" but Muamba has moved on, rebuilt his life and now prefers to focus on the future, not the past for which he will always be known.
"I have come to terms with it, I did a long time ago," he tells BBC Sport.
"I have had to adjust to knowing I'll never play again. I have read the papers from that day but I have never watched my incident at White Hart Lane."
There were times afterwards when he found it hard to watch games but now the former Bolton player is just, as he puts it, "a normal fan".
He is back in London, looking tall, slim and healthy, and talks of keeping himself busy day to day.
Muamba is also studying sports journalism but adds, bursting into laughter: "I am not after your job, you are safe."
One of his many commitments will see him present the newly launched Barclays Merit Award.
There will be nominations for significant moments of sportsmanship, milestones for players and for managers and, more significantly, the unsung heroes.
"The medical team at Spurs did a great job to help me to recover, hopefully they get to win this," he says.
"I want to recognise the hard work done by people in the background."
After the global media attention that followed his remarkable recovery and his emotional return to White Hart Lane, Muamba is happy to drift into the background himself.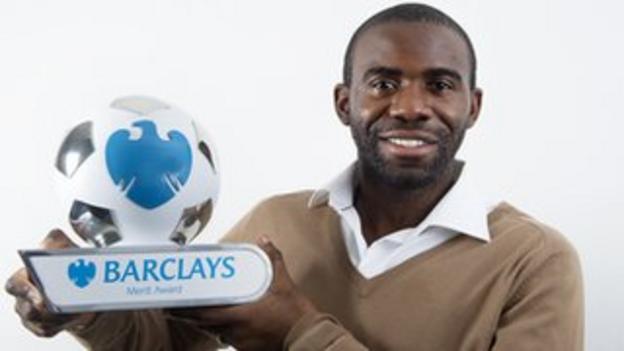 He lives with his wife and two young children at the at the end of a cul-de-sac in Cheshire.
"I am glad I am still here to spend time with them," he says. "I love spending time with my kids, I can't wait to get home to them."
But when his son Joshua plays football in the garden, Muamba does not join him.
"I am happy, football is just a job," he says. "I am sure I will get another job sometime soon."
That job may well come in journalism. He is studying sports writing, broadcasting and the skills he believes will give him a second chance in football.
"I am studying all aspects of it," he explains. "Journalists need the whole package these days - writing, broadcasting, blogging, everything. I would actually like to see more ex-players go into journalism to see the other side of it. I enjoy it."
Letting go from a life as a footballer has not been easy. It has also meant letting go of dreams like playing for England, perhaps at World Cups, and winning trophies.
But when you look at his upbringing it is remarkable that he ever became a footballer in the first place.
He was born in Kinshasa in Zaire (as the Democratic Republic of Congo was known at the time) where he was only allowed out to play football with his friends when he had finished his homework.
"School work was the most important thing, not football."
Civil war began to grip the country. Muamba's uncle, who had been a close advisor to the regime, was dragged out of his house and shot by rebel forces.
It was an incident that prompted the rest of the Muamba family to fly to England as refugees.
"We had a decent life. I enjoyed my time with my friends and my family. But when the war started, everything changed," he says. "I was very young, I didn't know what was going on."
And football? "I wasn't really into football, I just enjoyed playing the game. It wasn't football mania for me."
Muamba progressed through the England schoolboy age-groups, impressing as one of Arsenal's academy stars.
"By the time I got to the Under-20s I thought maybe, just maybe, an England call-up might happen," he says.
Having been born outside of the country, the 25-year-old is well-placed to comment on England considering drafting the likes of Adnan Januzaj into the squad, through the five-year residence rule.
"If a Turkish player, like Mesut Ozil, can play for Germany then why not England?" he says. "If you look at the French 98 team? Marcel Desailly was Ghanaian, Patrick Vieira is from Senegal and Zinedine Zidane's family was from Algeria. Somebody, somewhere is doing this now. Why shouldn't England do it?"
But what then, did he make of Jack Wilshere's "only English people should play for England" comment?
"I think Jack says he was misquoted, but all I would say is that we need to be open minded to certain things in life," Mumaba says.
"In the Premier League we have sides full of different nationalities and we have better football because of it. That should apply in the national side as well.
"They might not be born in this country, but if they qualify why not?
"If the best team in the world, Spain, have a Brazilian player in their side [Diego Costa], surely that must say something. We should be open-minded to new things."
New things are coming thick and fast for Muamba and he is as open-minded as anyone.
"Your football career can be taken away from you in a second. I am a witness to that," he adds.
Fabrice Muamba has already got up from the turf when millions thought he might not.
And with that strength of character, anything is possible as he begins life after football.