Tony Burman: Dartford manager criticises defending
Last updated on .From the section Dartford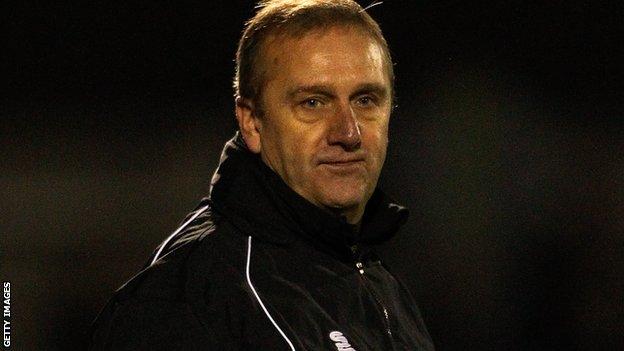 Dartford manager Tony Burman says his players let him down with their defending during their 5-1 defeat at home to Wrexham in Conference Premier.
The Darts are now 22nd in the table after what was their fourth successive defeat in the league.
"I'm gobsmacked. It's probably the worst defensive play I think I've ever seen from us," he told BBC Radio Kent.
"It's concentration but at the same time I feel I have been badly let down. It was worse than schoolboy defending."
He added: "I very rarely come out and say things I don't believe.
"Defensively I was let down. In midfield and up front we did alright.
"I got a decent performance from the six guys who played in front of the back four.
"Tommy [Forecast, on-loan goalkeeper] has come in to help us out but what he had in front of him was carnage really.
"I don't normally get let down and it is not often that it happens."
Burman substituted defenders Mat Mitchell-King and Matt Fry early in the second half and has called on his side to show more character in future.
"I've got to do something," Burman said. "You need to have guts and determination and you have to show a bit of fight.
"I'm not saying I didn't get that from a higher percentage of the side, but you can't defend like we did in the first half.
"You need to show a bit of pride and the guys who finished [the game] did.
"They are experienced guys but if you have a lack of determination and fight it is irrelevant.
"We have always built our sides on work rate. When that isn't happening people get found out."