Hearts' Gary Locke open to League Cup semi-final change
Last updated on .From the section Hearts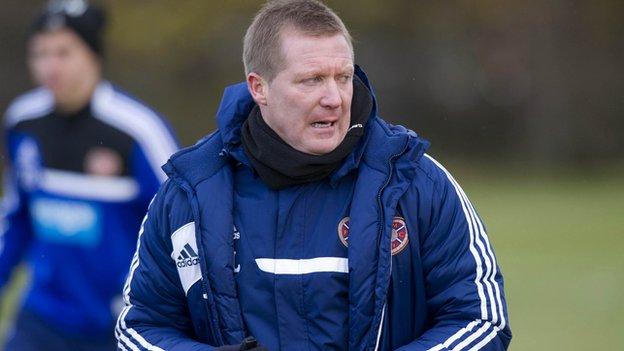 Hearts manager Gary Locke would be open to a change of venue for February's Scottish League Cup semi-final against Inverness Caledonian Thistle.
to ask supporters to travel to Easter Road in Edinburgh for a 12:15 GMT Sunday kick-off.
"It wouldn't bother me, the main thing is that Hearts are in the semi-final," said Locke about a possible switch.
"That is not going to be my decision. That's for people higher up the game."
A delegation of Caley Thistle fans, who have started a petition,
But Locke admits that he is pleased that the home of Hearts' city rivals has been chosen for now, pointing out that the Tynecastle club's fans filled three stands the last time they played a semi-final there.
"I will accept whatever happens, but at the moment we are delighted it is at Easter Road because it is not that far away for our supporters," said the Hearts boss.
"We will have a sizeable crowd at that game.
"The fact is Inverness will probably take more than they would normally have, but I certainly don't think it will be as many as we will have.
"If it was at Tannadice, it would be the same.
"I can sympathise with them, because one of the main reasons there is a problem is that they can't get transport down to the game for the kick-off, so obviously I feel for them.
"It is a problem Inverness have got. I hope they can get a resolution to it.
"If they change the venue then so be it, but it is not something I am too concerned about."
Locke insists the advantage his side might have by playing in the city would be minimal.
"Although the tie is in Edinburgh, it is a neutral venue, it is the same for both sides," he insisted.
"Obviously it is not far away in terms of travelling, so that might give us a slight advantage.
"But Inverness are used to travelling everywhere, so I don't think it is a massive thing, but I certainly feel for their supporters."