Rangers: Laxey Partners pay £1.3m to be largest shareholder

By Alasdair Lamont
Senior football reporter, BBC Scotland
Last updated on .From the section Football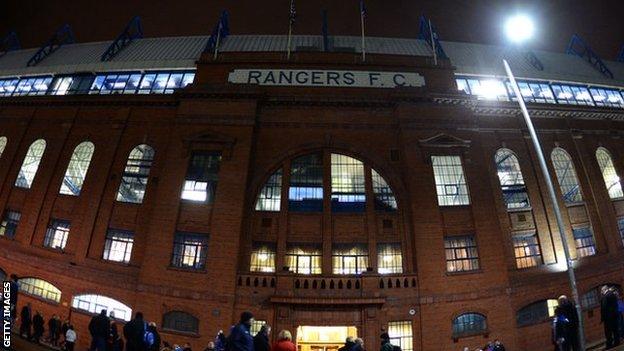 Rangers have announced that the purchase of more than three million shares on Wednesday was by Isle of Man-based Laxey Partners Limited.
It makes the hedge fund the largest shareholder in Rangers International Football Club plc with 11.64%.
Laxey's deal cost in the region of £1.3m at market value.
It is understood that the company is likely to be loyal to the current board and vote with it in the upcoming annual general meeting.
So the significance of the deal will be felt at next month's gathering, where a crucial vote is due.
The current board is looking to win a power struggle with
Both parties are confident of emerging from the AGM with control following months of acrimonious disputes over the running of Rangers.
No indication has been given as to who sold the shares on Wednesday, although the only groups that held such an amount are the institutional investors Artemis and Hargreave Hale as well as Blue Pitch.
In addition to the 7,578,672 shares now held by Laxey, the announcement to the London Stock Exchange indicates it is entitled to another 714,285 on or before 19 December as a result of a transfer from the former Rangers chief executive, Charles Green, an arrangement that dates back to October 2012.
In August this year, Laxey bought up more than two million Rangers shares.