Kilmarnock say Nigeria's Reuben Gabriel 'must do better'
Last updated on .From the section Kilmarnock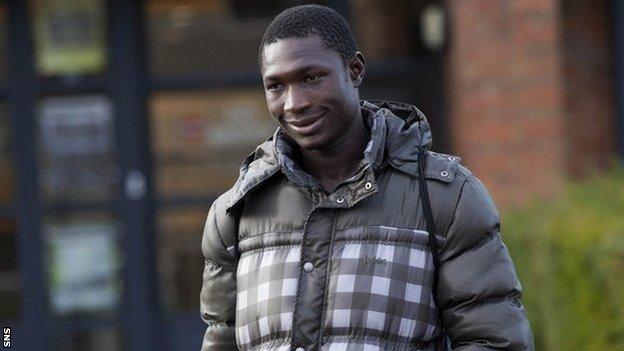 Out-of-favour Nigeria midfielder Reuben Gabriel has been told he must do better if he is to force himself into Kilmarnock's first-team set-up.
And manager Allan Johnston has reprimanded the 23-year-old for criticising both himself and chairman Michael Johnston on social media.
"It's good that he's disappointed, but it's a bit silly putting it on Twitter. That's not done," said the manager.
"At the end of the day, you are playing on merit. He has to do more himself."
Gabriel's former Kano Pillars and Nigeria team-mate, Papa Idris, had his contract terminated in June without the defender making an appearance for Kilmarnock.
Midfielder Gabriel has also yet to play for the Scottish Premiership side since signing a three-year contract in April.
But, having recovered in August from a three-month spell on the sidelines with a groin injury, he was part of the Nigeria squad that qualified this month for the World Cup.
"He's obviously been a good player when you see that he has been involved in the national team," said Johnston, whose side sit second bottom of the Premiership.
"But you play in the first team on merit and because you've played for Nigeria doesn't mean you automatically get picked for the first team."
Gabriel could face being disciplined for his outburst.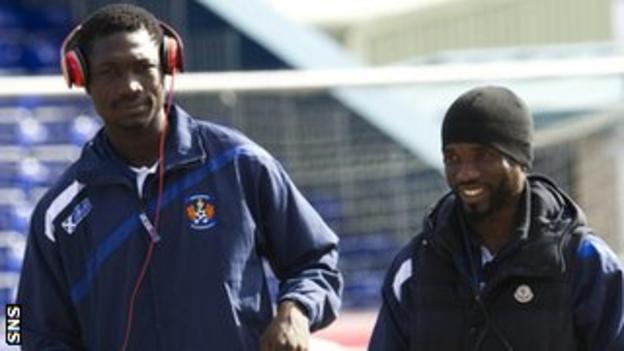 "There are rules in place that you're not meant to talk about football on Twitter or Facebook or whatever," added Johnston.
"I'm sure he understands the rules. I will speak to him and hopefully he learns his lesson.
"The main thing for him is that he's got to work harder to get himself in the team.
"He needs to do better. At this point, there are a lot of good young players in front of him."