Forest Green's Danny Wright expects hostile reception at Wrexham
Last updated on .From the section Football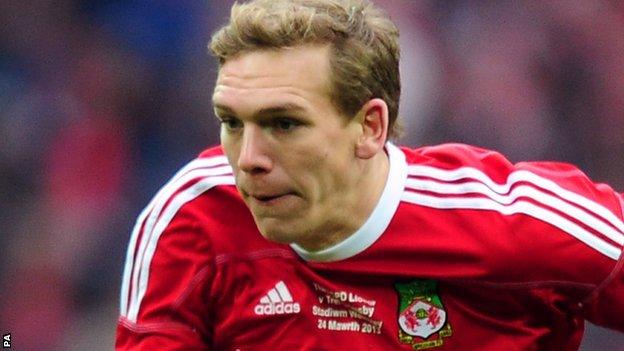 Forest Green Rovers striker Danny Wright says he expects a hostile reception when he returns to former club Wrexham on Saturday.
The 29-year-old has only scored three times for his new club and is expecting a rough ride from the home supporters at the Racecourse.
"I'm not expecting anything too good to be fair," Wright told BBC Wales Sport.
"Obviously I got a bit of stick for leaving in the summer, but it's football.
"They wouldn't be the fans that I fell in love with for two years if they didn't give me a few boos. It's part and parcel of it all I suppose."
Wright scored 23 goals in 80 appearances for the north Wales club but turned down a new deal at the end of last season and opted to join Forest Green on a free transfer.
Wrexham chief executive Don Bircham said the former Cambridge United and Histon player turned down a "very attractive package" to stay at the Racecourse.
Bircham also derided Forest Green, backed by millionaire Dale Vince, describing them as "a village team with a lad with a few bob."
"There were a few words thrown to-and-fro, from both parties," added Wright.
"I think once it calmed down everything was fine and obviously it's a big fixture for both teams on Saturday.
"That's the main thing everyone needs to concentrate on really."
Wrexham are 15th in the Conference Premier following Tuesday's 5-1 win at Dartford and are two points behind 13th placed Forest Green, who were tipped for promotion in pre-season.
Forest Green have won their last three league games with Adrian Pennock now in charge after replacing Dave Hockaday.
Hockaday, who signed Wright, left the club by mutual consent in October after a run of seven defeats in eight games.
Wright is looking forward to Saturday's game between two sides looking to kick-start their league campaigns.
"Obviously both teams are in positions where you didn't expect them to be," Wright said.
"The new gaffer's come in and the transition period has worked quite well for us so far. We've got a few results on the back of it.
"We've obviously had to nail down being more solid basically and you don't lose the game before you win it.
"That's really worked well for us and hopefully we can take it into Saturday.
"We'll be going there with confidence that we can win the game but Wrexham will be looking for the same to build on a good win."