Jordan Cousins: Charlton Athletic midfielder's rapid rise
By Rob Stevens
BBC London & South East Sport
Last updated on .From the section Football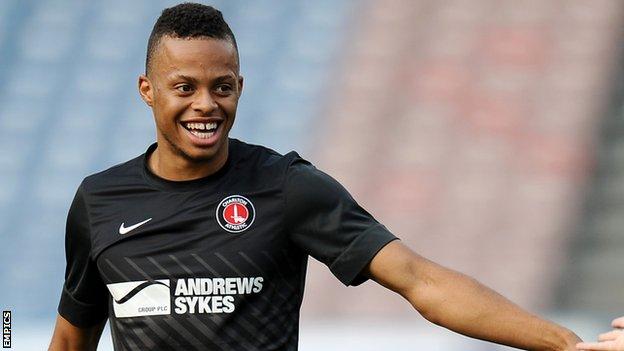 Charlton Athletic midfielder Jordan Cousins only started his first professional game 55 days ago.
In that time, the 19-year-old has certainly made quite an impression, signing a new three-year contract, playing all but six minutes of the Addicks' matches since, and now being named the Football League's Young Player of the Month for October.
"It has been like a dream," he told BBC Sport. "I didn't see it coming to be honest.
"I was a bit shocked when the gaffer called me up to his office and said I had won the award.
"It is a great honour and it means I'm at least doing something well. I need to keep my head down, keep working hard and keep putting in performances.
"Everybody in the team contributed to this as they have all helped me.
"When I was first playing it was a bit nerve-wracking. As I got into the flow of games the nerves were on the back-burner and I got to enjoy it a little bit more.
"The experienced players have helped me a lot and pulled me along. Without them I don't think I would have got this so I owe a lot to them."
Cousins made his first-team debut as an 88th-minute substitute in the Capital One Cup against Oxford in August, before going on to score in his second senior appearance against Barnsley in the Championship having come on at half-time.
And, after finally making his first start in the 3-0 defeat by Burnley on 28 September, he kept his place to help Chris Powell's side go unbeaten in October.
The Greenwich-born academy graduate, named League One Apprentice of the Year in 2012, had been a stand-out performer for Charlton's under-21 side last season.
He helped the squad to win a treble of the Professional Development League Two crown, Southern Area league title and Kent Senior Cup.
He puts his inclusion in the first-team picture this season down to the effort he put in during Charlton's pre-season this summer.
"In pre-season I realised it was time to step up," Cousins explained.
"I was working extra hard to get into the team and when I got the chance in pre-season games I knew I'd have to perform to stand a chance. I think it all started then.
"As a footballer there are a lot of outside distractions. I put everything else in my life on the back-burner and made sure I focussed on football.
"I wouldn't have imagined it to be like this in the summer. I thought I would be maybe breaking in slowly before Christmas.
"I can see the rewards are coming now and I think it is showing in my performances."
Charlton manager Chris Powell has been quick to praise the youngster and says his attitude in pre-season demonstrated he was ready to be thrown into the first team. And, after seizing his chance, the former England international says Cousins has brought out the best in other players.
"It was no secret I was looking at getting in an experienced player in that position but he was staring me right in the face," Powell said.
"He was saying to me - not verbally but in his training - that he was the one for me.
"He earned the right to start a game and I haven't taken him out since. He has really made a difference with his all-round play and it has helped other players.
"All of a sudden we have a good balance in midfield, with defensive qualities, passing ability, tackling and goalscoring. He has come in and helped that blend.
"He has helped the team develop and that is no mean feat, especially when you are 19 years of age."
Cousins came through the ranks at Charlton, having joined their youth set-up at under-13 level - but only after a brief flirtation with Arsenal, the team he supports.
"Funnily enough, I don't think I was scouted," he said. "I was in the middle of a one-week trial at Arsenal and it was quite far for my mum and dad to travel.
"My dad called Steve Gritt, who was here, and asked if I could have a six-week trial. Then six weeks on I was signed.
"I came as a very raw player. Coming through the academy ranks, they've helped me to develop a lot and improve technically."
Cousins has also gained experience through the England age groups. He won the Victory Shield twice with England Under-16s, captaining the side to the second of those triumphs in 2009, and was part of the England side which reached the quarter-finals of the Under-17 World Cup in Mexico in 2011.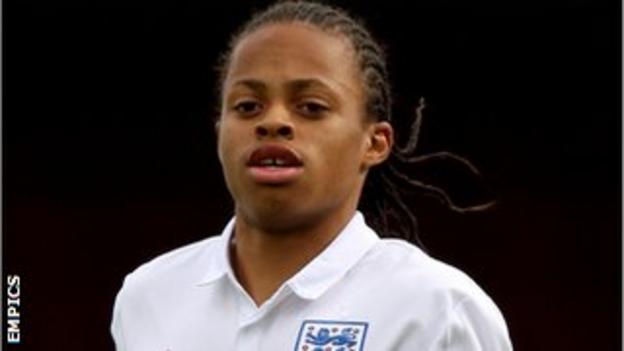 He credits his international recognition for aiding his development and allowing him to mature off the pitch.
"I think that has helped me a lot," he said. "I spent five weeks in Mexico without my family and as a footballer you need that. I got that at such a young age and I realised it was serious.
"Going to other countries you get to see other cultures and learn a lot about life. You realise how lucky we are as footballers to have what we have."
The challenge now is for Cousins to remain in the first team for the rest of the campaign and continue his development as a player.
"He has got that desire and attitude to be better," Powell added.
"I think he will always feel he can do better and that he wants to work on weaknesses. I always look at players' strengths and what they can bring to the team.
"Does he want to get better? I am sure he does. It is down to him to become the player I and many others feel he can be.
"Let's take our time with him and let him develop at his pace. Hopefully we have got a player who will have a very, very good career."