Watford told to repay £900,000 to LNOC
Last updated on .From the section Football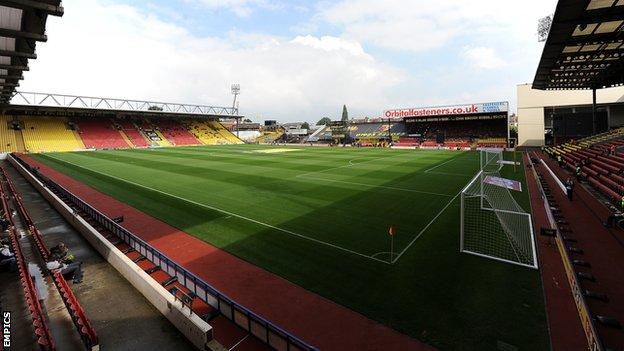 Watford have been ordered to repay finance firm LNOC £900,000 as a result of the financial misconduct that took place under ex-owner Laurence Bassini.
and the club put under a limited transfer embargo.
He was found guilty by an independent Football League commission of failing to inform officials of financial agreements with LNOC.
In the High Court, LNOC said it was owed a final repayment of £900,000.
During the Football League's investigation earlier this year it was revealed that Bassini had, without the club's knowledge, agreed to take funds from LNOC, in return for money from the transfer of striker Danny Graham to Swansea and the club's share of the Championship's TV rights deal.
The Hornets had taken in the region of £2.61m from LNOC, who said a final repayment of £900,000 was still owing.
Lawyers for Watford argued that it was not bound by the transactions as the deals had been done by the former owner, who controlled the club between May 2011 and June 2012.
They added that the deals had "plainly" not been in the club's best interests and that Bassini lacked the authority to act on the club's behalf.
But Judge David Mackie QC ruled in favour of LNOC and said: "The club is free to delegate wide-ranging authority to a managing director but it has to take the consequences of doing so.
"The club acted through the de facto managing director it appointed, borrowed money but has not paid it back. It should now do so."
The Championship club have been owned by the Italian Pozzo family since June last year.