Hearts: CVA takeover proposal delayed by a week
Last updated on .From the section Football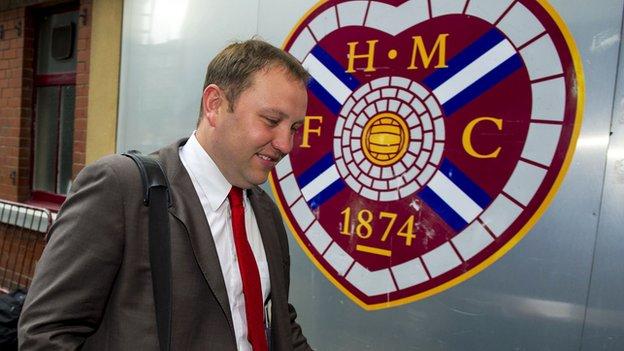 Hearts' administrators have put back a key creditors' meeting planned for Friday by seven days.
The delay is to allow their Lithuanian-based major shareholders and creditors time to consider a company voluntary arrangement (CVA) offer.
Preferred bidders, fans' group Foundation of Hearts, are offering £2.5m towards debts of around £30m.
Ukio Bankas and UBIG are owed the vast majority of money and together own about 80% of the club's shares.
Earlier this month administrator BDO sent out a proposal for a CVA to take the Scottish Premiership club out of administration.
And the CVA requires the approval of creditors representing 75% of the club's debt.
Joint administrator Bryan Jackson said: "The meeting of creditors planned for 22 November has been adjourned at the request of the administrators of Ukio and UBIG who require more time to consider the CVA proposal.
"As UBIG's appointment was very recent and the administrator of Ukio is liaising with them over the proposal, it was decided that it would be sensible to allow them a further period to look at the details of the CVA document.
"The meeting of creditors will now be held at Tynecastle at 10:00 GMT on 29 November, followed by a meeting of shareholders two hours later."
If successful, Foundation of Hearts would make a £2m payment on completion of a going concern sale of the business and assets of the club.
A further £500,000 would be paid by the group over a 10 month period from the date of the going concern sale.
The FoH would also assume responsibility for £535,000 of outstanding football debts Heart of Midlothian PLC has.
"The overall timescales do not change, and we remain calm, steadfast and focused towards our objective," said a spokesperson for the group.
"The continued patience of the supporters is appreciated as we do all we can to get Hearts out of administration."
UBIG, which was controlled by former Hearts owner Vladimir Romanov, had its assets frozen in April after declaring insolvency and is now in the hands of liquidators.