Sunderland: Gus Poyet wants final say on new signings
Last updated on .From the section Sunderland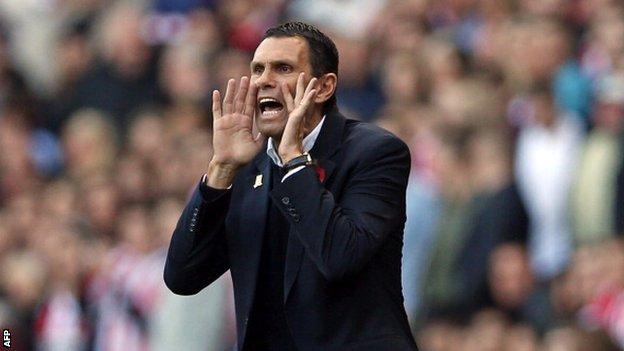 Sunderland head coach Gus Poyet says he must have the final word on the club's January transfer signings.
The 46-year-old will work on player recruitment alongside Sunderland's director of football, Roberto De Fanti, and chief scout Valentino Angeloni.
But Poyet, who replaced Paolo Di Canio as Black Cats boss in October, insists the ultimate decision should be his.
"The player has to be the right one for me. If not, I'm not going to accept it," the Uruguayan said.
"I'm sure it's going to be done in the right way, in the common sense way. Everyone has a responsibility."
The transfer window opens at 00:00 GMT on Wednesday, 1 January, 2014, closing on Friday, 31 January.
Poyet says discussions over potential targets with De Fanti and Angeloni have been positive so far, though he would take a hardline stance if they disagree over new players.
"We talked about a position the other day and considered four players," Poyet said.
"I picked two but one of the others was a definite no. If that player is coming, I won't be here.
"The sporting director exists everywhere in the world. So far, everything is working fine. The connection and communication has been great."
Sunderland are second from bottom in the Premier League, although they have won three of their last four games in all competitions, including a 1-0 victory over Manchester City on 10 November.