Africa needs more local coaches, says Caf coach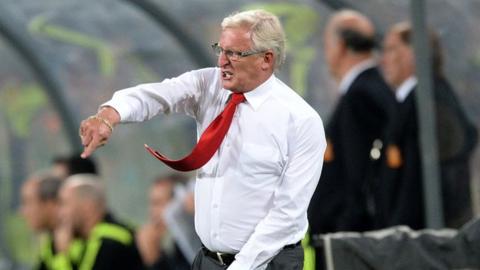 Confederation of African Football (Caf) technical instructor Ben Koufie says Africa must produce more local coaches at the top level.
Koufie, who teaches Caf's equivalent of Uefa's A licence, is concerned by the number of foreign coaches in Africa.
"This must change. Africa must own its own space if we are going to get the respect of the world," he said.
Of the 10 nations who qualified for the World Cup play-offs only Ghana, Nigeria and Ethiopia have African coaches.
While Sewnet Bishaw was unable to qualify Ethiopia to next year's World Cup, Ghana were guided through by Kwesi Appiah, who became the first black African coach to achieve the feat with the Black Stars.
African champions Nigeria also booked their place in Brazil, led by Stephen Keshi, a man who has been strongly critical of the role of foreign coaches in Africa.
In January, Keshi said: "The white guys are coming to Africa just for the money. They are not doing anything that we cannot do. I am not racist but that's just the way it is."
Keshi coached Nigeria to the Africa Cup of Nations title in February - the first black African coach to won the trophy for 21 years and only the second man to win the title as a coach and a player.
In order to improve the standards of coaching in Africa, the continent's governing body Caf will soon introduce a law which forbids any national coach without an A Licence to coach national teams on the continent.
And it is Ghanaian Koufie's job to run a 20-22 November course in South Africa, which will be attended by the likes of South Africa coach Gordon Igesund, to take coaches to that standard.
"I know this might sound funny as most coaches might say why I should have a certificate when I am already a good coach, however, the truth is, you can be a good driver but it is an offence to drive without a valid driver's licence," said Koufie.
South African Football Association acting Technical Director, Fran Hilton Smith, said she was impressed with the direction the country was taking in empowering local coaches.
"We can only develop top quality players if we have qualified coaches," she said.