Libya to remain as 2017 Nations Cup hosts - Caf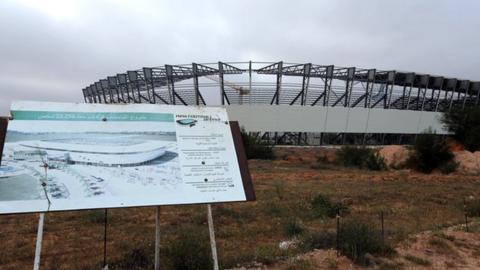 Confederation of African Football (Caf) general secretary Hicham El Amrani says Libya will remain as hosts for the 2017 Africa Cup of Nations, despite the ongoing troubles in the country.
The country has been gripped by political and social unrest since the the 2011 war that ousted Muammar Gaddafi and some reports had suggested Algeria could step in as hosts.
Libya was due to host the 2013 edition of the tournament but precarious security saw the event switched to South Africa, who had been down to host in 2017.
Although the country remains unstable, El Amrani told BBC Sport: "We have not received any communication from Algeria about replacing Libya and Caf's position has not changed since Libya was confirmed as hosts for the 2017 tournament.
"It does not mean that Caf is not sensitive to what is happening in Libya nor that Caf is not following the latest developments in Libya.
"The executive committee will continually assess to make sure the tournament is organised in the best possible way with conditions that allow such an international tournament to take place.
"As things stand today, the tournament will be held on Libya in 2017."
In April, Libya's Deputy Prime Minister Awad Ibrahim Elbarasi revealed the country's plans to to invest 400 million dinars ($314 million) on building 11 stadiums.
And El Amrani is confident that Libya has begun its preparations to host the tournament and will be ready to make it a successful event.
"The organisers (in Libya) are doing the work, they have set up their local organising committee, they have proposed the venues, they have proposed a certain number of key elements that allow us to get started within the implementation of the tournament and its organisation," he said.
"I cannot comment on the political/social situation, we are concerned only with the sporting organisation.
"Caf is responsible enough to ensure any host of any tournament will guarantee security for players, officials, visiting fans, visiting and any stakeholders involved in the tournament."
The 2015 Nations Cup will be held in Morocco.