Reading: Hal Robson-Kanu eyeing role as a striker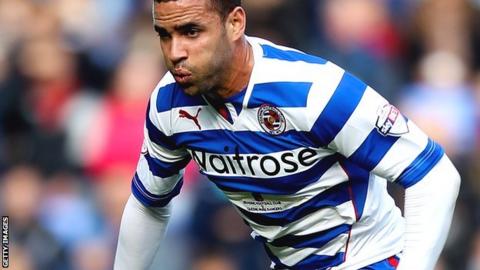 Wales international winger Hal Robson-Kanu says his future at Reading is as a striker.
The 24-year-old has scored 18 goals by playing a majority of his 135 games for the Royals on the wing.
"For me to be most effective, I do think down the middle will be my way forward," he told BBC Radio Berkshire.
"Naturally, I'd say I'm a striker and that it's my most comfortable position. A lot of people don't know that, as an academy player, I was a striker."
Robson-Kanu, who graduated from the Royals' academy to make his first-team debut in 2007, signed a new two-year deal with the Championship club in July.
While he is pleased with his career so far at the Madejski Stadium, Robson-Kanu is eager to convince manager Nigel Adkins that he is better suited to leading from the front.
Last season he netted seven Premier League goals, including two against Fulham.
And in his efforts to help Reading win Premier League promotion in 2012, Robson-Kanu scored a volley that then-Royals manager Brian McDermott described as "one of the best" he had ever seen.
"It was in the reserves that I was moved out wide and obviously I've been able to play both wings, but that is more about my adaptability," he said.
Robson-Kanu has welcomed competition for places on the wing with Jordan Obita, 19, making six Championship starts already this season.
"I think everyone has been aware of his capabilities and it is fantastic to see another player come through the academy," he added.
"That is what we all want to see, and long may it continue."