SFA reproach for Peter Lawwell remark and Rangers' complaint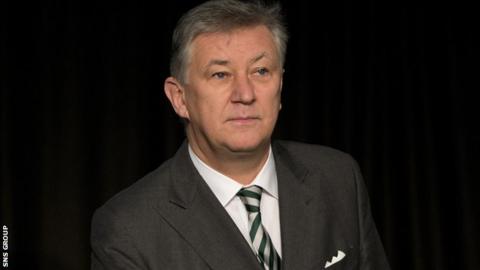 Scottish Football Association president Campbell Ogilvie is saddened by "an apparent erosion of mutual respect" between Celtic and Rangers.
This follows a complaint from Ibrox over a comment on Rangers' status by Celtic chief executive Peter Lawwell.
Lawwell's remark will go unpunished since there was "no actionable breach of the rules".
However, Ogilvie referred to both the comment and subsequent complaint as "wholly unnecessary".
Lawwell, responding to a Celtic shareholder who asked why some in the media refer to Rangers as a club in existence since 1872 despite their insolvency event last year, said: "Rory Bremner can pretend to be Tony Blair."
Of his reference to the impressionist's take on the former Prime Minister, the Celtic chief executive added later: "I was putting a bit of humour into that. Nothing more than that."
Celtic manager Neil Lennon was also quizzed on the remark and responded: "It is a hoo-ha over nothing."
Ogilvie, a former Rangers director, issued a statement, confirming an official complaint had been made by the League One club.
"The compliance officer has informed both clubs that there is no actionable breach of the rules," he said.
"None the less, I am compelled to convey my disappointment that we find ourselves in this position, as a result of an apparent erosion of mutual respect between two of our oldest rivals.
"At a time when Scottish football faces challenges on many fronts, it is incumbent on our biggest clubs to set the highest standards.
"In this regard both the comments made, and the subsequent time, effort and resource imposed on our Compliance Officer to deal with the complaint, were wholly unnecessary."
Lennon thought the reaction from Rangers was "over the top", adding: "It is a storm in a tea cup. No more than that.
"It was a throwaway remark. I don't know what he meant by it, you will need to ask Peter.
"You have to be so PC these days, regarding a lot of topics.
"I know from my own experience, I have said a few things in the past and suffered from it, if you want to put it that way."