England v Hungary 60 years on: What lessons have been learned?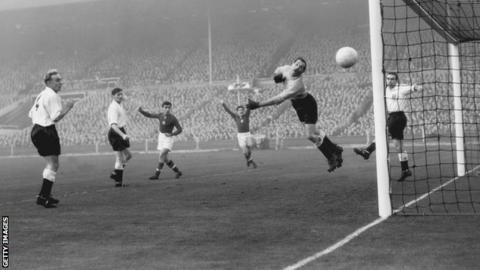 You can normally count on a Scotsman to cut to the chase when it comes to English football's failings. After all, they have been pointing them out ever since 11 Englishmen went north on 30 November, 1872, for the first ever international match.
That game ended 0-0, but the Scots would win nine of the first 13 matches between the teams, and 27 of the first 50. England would trail in the head-to-head series until 1983. Losing to more skilful opponents from a country called Scotland was not that shocking for most of English football's history.
Which is why it was fitting that the last word in BBC Radio 5 Live's special last week on England's first home defeat by properly "foreign" opposition - Hungary, 60 years ago this Monday - should go to Scottish journalist Ian McGarry.
The programme started with a discussion of England's recent reverses to Chile and Germany - the first back-to-back defeats at Wembley for 36 years - before moving onto the current debate about the health of the beautiful game in its mother country.
Regular listeners will know this patient has a chronic condition that flares up after major tournaments, or sometimes instead of them. What is different about this round of fevered introspection is that we are having it before the tournament.
Steve Claridge, Martin Keown and David Pleat were the main voices during the conversation, and all the usual symptoms and cures were discussed. So much so that McGarry was moved to say: "I feel like I'm in a time warp from 20 years ago - everybody is going around in circles saying the same thing, and nobody has the answers."
But that was not his final word. That came after a poignant section on the day Stanley Matthews and co lost 6-3 to a tubby soldier called Ferenc Puskas and his Magical Magyar mates.
Jimmy Armfield - a Blackpool trainee back then who would go on to become the best right-back in the world, a fine club manager and superb broadcaster - phoned in to describe the defeat as "a real wake-up call" for a team and fans who "thought they were impregnable on their own pitch".
"A wake-up call in 1953?" said McGarry. "How many alarms need to go off before this country wakes up?"
English football, it would seem, has made a habit of hitting the snooze button and rolling over.
In the last decade we have had a Football Association review after England's exit from Euro 2004 (among the proposed remedies was less club football), a Government-backed look at the FA's structure in 2005 (the creation of a "parliament of football"), an appraisal of youth development in 2007 (more FA involvement), "root-and-branch reform" after the failure to reach Euro 2008 (hire Fabio Capello), and finally mass hand-wringing after the debacle at the last World Cup (sack Capello).
The latest intervention has been sparked by new FA chairman Greg Dyke in September.
The preceding weeks had witnessed England's age-group teams embarrass themselves in two important competitions, with the women not doing much better. The men's team were in the midst of a stop-start World Cup qualification campaign that barely moved at all a week later in Ukraine.
They would come good eventually, but England fans did not really need Chile and Germany to remind them to tone down the "Road to Rio" chat. Dyke, a straight-talking media mogul, certainly did not mince his words.
"In the future, it's quite possible we won't have enough players qualified to play for England who are playing regularly at the highest level in this country, or elsewhere in the world," he said.
"It could well mean England's teams are unable to compete seriously on the world stage."
He would continue by admitting that England were hardly serial winners, the warnings had been ignored for years and the FA must share the Three Lions' share of the blame.
But his main points were clear: English football is not producing enough of the right stuff, and those who are good enough are often left to wither on the vine while foreign imports clog the market.
Ken Goldman, the vice-chairman of the London Football Coaches Association, could not agree more.
He was at the Empire Stadium on 25 November, 1953: a football-mad 14-year-old in a crowd of 100,000 on a misty Wednesday afternoon.
It had been billed as "The Game of the Century". Hungary were the reigning Olympic champions and undefeated for three-and-a-half years, while England, well, we invented the game, didn't we?
"There was a breathlessness, like we had seen something life-changing," remembers Goldman.
"But there was also huge depression. We did not concede six goals at Wembley."
There had been defeats before, but not like this. They had been away, in hot countries, at the wrong time of year, and with questionable selections.
Even when Ireland actually became the first foreign team to beat England at home in 1949, it did not really count, apparently. It was at Goodison Park, against a team packed with Football League talent.
But this was different: 6-3 at Wembley, 35 shots to five, and the Hungarians declared after an hour, content to play matador with a clapped-out John Bull.
"It stands as the most significant game in English football history because there were no more excuses," says football writer Jonathan Wilson.
"From the very foundations of the game, England had been the pioneers, but they clearly weren't as good as other teams anymore.
"There had been blips along the way, but this happened at Wembley, in perfect English conditions, and they were still played off the park.
"They had fallen off the pinnacle, and the truth is they had probably fallen off 20 or 30 years before."
Quite how far they had fallen was confirmed six months later when Hungary beat them 7-1 in Budapest. It remains England's heaviest defeat.
Sir Walter Winterbottom was England's manager at the time. The first man to hold the role, he also held it longer than anybody else, and he combined the job with being the FA's head of coaching.
Winterbottom died in 2002, having led a rich life which saw him train as a teacher, play for Manchester United, serve as a Royal Air Force officer, revolutionise football coaching in this country, take England to four World Cups and then enjoy a successful career in sports administration.
But as his son-in-law and biographer Graham Morse explains, Winterbottom's main legacy was that loss.
"As Dick Francis is more remembered for his inexplicable disaster on Devon Loch in the 1956 Grand National than his record as a champion jockey, Walter is remembered, even now, for England's first home defeat by a foreign team," says Morse.
This is very unfair. Winterbottom had spent most of the previous seven years saying English football needed more and better coaches, and that club football's dominance made his job almost impossible. He did not even pick his own team until a few years later.
"When he started at the FA in 1946, he faced stubborn resistance," says Morse. "Nobody believed in coaching and nobody wanted change.
"But Walter could see the golden age of English football was coming to an end and that things had to change."
After the humbling by Hungary, everybody else could see it as well.
"There was a huge debate afterwards, we knew everything was wrong," remembers Goldman.
But even then, the snooze button was pressed a few more times.
Yes, there were radical changes in terms of light-weight kit and better boots, six of the players defeated in 1953 never appeared for England again, and canny operators like Don Revie at Manchester City copied the deep-lying centre-forward tactic that had utterly bamboozled Winterbottom's defenders. But real change took much longer.
Winterbottom placed his faith in the group of talented young coaches he had set on their way: men such as future England managers Ron Greenwood and Bobby Robson, Spurs legend Bill Nicholson and the innovator who would succeed him as England boss, Sir Alf Ramsey.
Thirteen years after scoring England's third goal against Hungary, Ramsey would lead a team in a radical new formation to World Cup glory.
"Walter had left the FA three years earlier," says Morse. "But he laid the foundations for victory in 1966, and the Hungary defeat can be seen as the catalyst."
Dyke, of course, wants his reaction to happen even quicker. His "10-year plan" includes the targets of a semi-final appearance at the 2020 European Championships, and victory at the 2022 World Cup.
"This doesn't quite give us 10 years - the first tournament is seven years away, and the second is nine - but what's a year here or there," Dyke quipped in September.
The real concern, however, is not the deadline; it is the depth of the problems Winterbottom's successors now face.
Dyke's speech, as he feared, was seized upon by many as an attack on the Premier League simply because he pointed out the declining number of Englishmen on display in the top flight. Identifying the problem was the easy bit, though.
One of the less reported sections of his speech referred to the number of overseas players who have been given work permits to play here without meeting the criteria (playing in at least 75% of his country's international games in the last two years, for example).
Last week, Stoke City's move for US striker Juan Agudelo collapsed when he was denied a work permit. The club seemed as shocked as everybody else.
But it will take more than blocking a few transfers to give whoever has the England job in 2020 and 2022 a realistic chance of meeting Dyke's targets.
Ramsey did not just benefit from England's first and loudest alarm call. A few months before Puskas and pals gave us a sneak preview of Total Football, the FA staged its first Youth Cup.
Sir Matt Busby's Manchester United would win the first five in a row, and the phrase "Busby's Babes" had already been coined. A few years later, a Jimmy Greaves-inspired Chelsea would win two FA Youth Cups in a row.
"We just got better," is how Goldman remembers it.
That is the challenge Hungary set in 1953, and England met in 1966.
Are we ready to meet it now, or will we continue to snooze and lose?