Kilmarnock: Groups unite in bid to oust Michael Johnston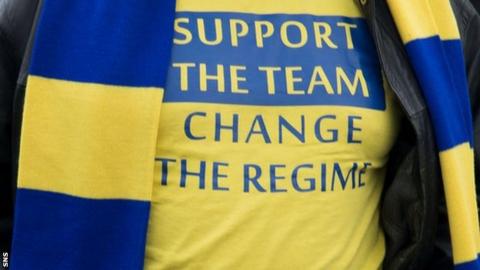 Two rival groups are to join forces in a bid to take over Kilmarnock FC.
It follows a meeting between the Killie Futures Consortium and a working party set up by fans to work towards a community ownership model.
The consortium has been in
But it has joined forces with the working party after deciding that those talks had yielded limited progress and a statement is expected on Monday.
It is believed that this will outline a joint strategy to wrest control from Johnston, who has has been under pressure from fans unhappy at his stewardship.
Local MP Cathy Jamieson, along with Kilmarnock Supporters Trust, Kilmarnock Football Club Supporters Association and small shareholders make up the supporters group.
The Futures Consortium includes Alan McLeish of club kit sponsor QTS, local businessman Chris McMail, from Microtech, businessman Kenny Alexander and the Kilmarnock chief executive and MSP, Ian Welsh.
Supporters Direct Scotland, which is chairing the working party to help develop ways to bring the club into community ownership, was also at Friday's meeting.
The groups agreed to join forces in an effort to bring the club into community ownership at a future stage.
Johnston, who has been the subject of fan protests at home matches,