Celtic: Neil Lennon won't 'take devil' out of Scott Brown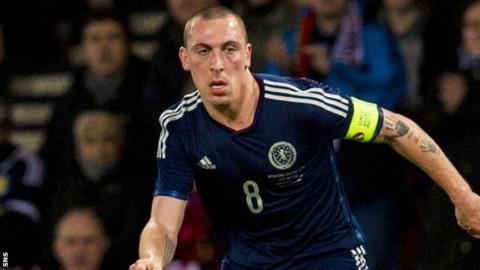 Celtic manager Neil Lennon insists he will "not take the devil out" of Scott Brown despite another kicking incident involving his captain.
The midfielder is serving a for kicking Barcelona's Brazilian forward Neymar.
He also kicked out at Vegard Forre during
"I am not taking the devil out of him," said Lennon. "I don't want to lose that side of him, as long as he does it within the rules of the game."
Brown's Champions League ban rules him out of next week's crucial group match at home to AC Milan, but he escaped punishment for the latest incident in Molde and went on to score Scotland's winner.
"I didn't see the game and I haven't seen it since then, so it is difficult for me to comment on it," said Lennon, who worked under Scotland boss Gordon Strachan at Celtic.
"But he was playing for Scotland and I assume if there was an issue there, which I am not sure there was anyway, Gordon would have spoken to him about it.
"I don't need to speak to him about it. I have already spoken to him about the Barcelona incident and I made my feelings pretty clear on that privately.
"It is part of his make-up. That's what makes him such a good player.
"He is a fantastic player, he is probably playing the best football of his career this season and we have missed him in European games and it has probably hurt him more than anyone else."
Former Celtic striker Charlie Nicholas, nowadays a pundit, called in his newspaper column for Brown to "grow up".
"I didn't see Charlie's comments," Lennon responded. "I am not a big lover of pundits - that's Charlie's opinion."