Everton 3-3 Liverpool: five things we learned from a thrilling derby

By Phil McNulty
Chief football writer
Last updated on .From the section Football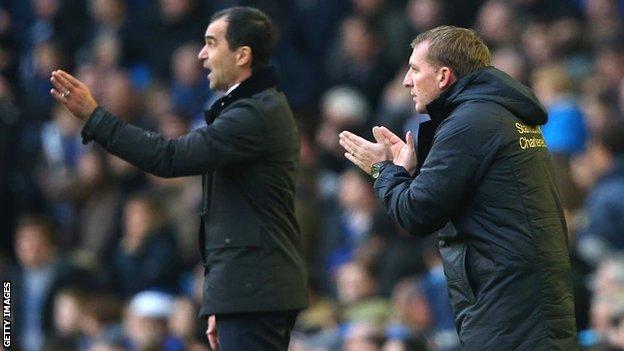 Everton manager Roberto Martinez was a matter of minutes away from the perfect weekend - with a Merseyside derby win to add to becoming a father for the first time when daughter Luella was born on Friday.
Liverpool's Daniel Sturridge stopped that with a late equaliser in a which was a classic feast of attacking football at Goodison Park.
It would not please Martinez or his Liverpool opposite number Brendan Rodgers to linger too long on the defensive subtleties of this game, but the standing ovation delivered at the final whistle offered the defining verdict on the most thrilling meeting between Everton and Liverpool for years.
Rodgers walked into his media briefing, sat down and just said: "Wow."
Martinez, asked about the plots and sub-plots that unfolded at Goodison Park, replied: "How long have you got?"
In many respects, the manner in which this derby played out came as no surprise as Everton and Liverpool are now under the leadership of two managers intent on attacking football and removing the fear from their teams' approach.
Referred to by some as the Merseyside derby "Made In Swansea" given the success both managers enjoyed in South Wales, the open, free-flowing (not to mention defensively flawed) game may even be a signpost to future things.
So what would Martinez and Rodgers make of their first meeting as rivals across Stanley Park?
STYLE RULES ON MERSEYSIDE
Everton under Martinez are in a period of transition tactically. Here is a manager who wants his team to play in a studied, passing style with the emphasis on attack.
At times this season it has worked superbly, especially in wins at and at home to while at others it has looked ponderous with a touch of passing for passing's sake, especially in the recent goalless draw at
But fifth place in the Premier League with only one defeat in 12 games hints at a fine start made by Martinez and his imprint can be seen increasingly on this Everton team.
In many derby matches overseen by his predecessor David Moyes, Everton often appeared timid and gripped by a lack of self-belief. No such problems here as Everton played with the handbrake off in the second half and forced Liverpool keeper Simon Mignolet into a succession of fine saves.
Everton also played a tempo that suits this new style. As players and supporters adjust to the new approach, patience has often been required but this was a game that will have provided much optimism for at Goodison Park, despite the disappointment of losing a late equaliser.
Rodgers has had longer to make this Liverpool team his own and the possession game he wants is now embedded. He also has the brilliance of Luis Suarez to call on, playing with incredible energy despite only flying back from Uruguay on Thursday after their World Cup qualification.
Liverpool's own fine start to the season, illustrated by some emphatic home wins in situations in which they have struggled in the past, shows a set of players increasingly at ease with their manager's methods.
They also carry a real threat and it was breathless stuff as Everton and Liverpool exchanged chances almost from first whistle to last.
If there was a flaw it was an obvious one. Defending set pieces was at best optional - and often non-existent - for both sides, with all three Liverpool goals coming via this route and two of Everton's. It will have been galling for two managers who pride themselves on coaching and organisation.
FORTUNE FAVOURS THE BRAVE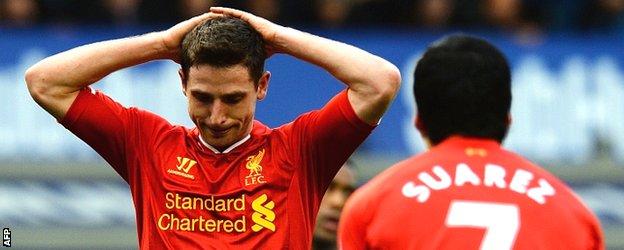 Martinez's main selection dilemma would have been whether to start with teenager Ross Barkley or the experienced Leon Osman. In the end he took the bold option of Barkley and was rewarded with another energetic display from this lavishly gifted player.
Barkley still makes unwise decisions at times but they are made with positive intentions and will be made with the full support of his manager, who is prepared to accept this in exchange for what he gets in an attacking context.
Rodgers restored Joe Allen to his midfield with Sturridge only fit to start as substitute - but the man he brought from Swansea will take away a miserable memory from this game.
In what was arguably the pivotal moment and with Liverpool leading 2-1, he contrived to carefully steer wide of goal from 10 yards with only Tim Howard to beat. He could even have squared to the unmarked Suarez - it was a dreadful miss, compounded by a booking minutes before being replaced by Victor Moses.
Rodgers also used local youngster Jon Flanagan ahead of Aly Cissokho and he coped well in a difficult atmosphere. He was unable to beat Romelu Lukaku in the air for Everton's third goal but that was down to poor organisation from Liverpool rather than Flanagan.
BRILLIANCE CAN COME FROM THE BENCH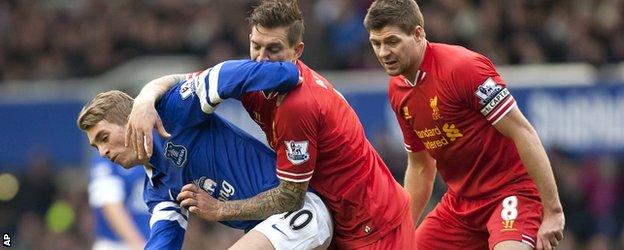 Martinez has earned a reputation for making positive changes during his time at Everton and the pressure of a Merseyside derby made no difference to his approach.
When Leighton Baines went off injured early in the second half, Martinez surprised many by introducing 19-year-old attacker Gerard Deulofeu, to ensure Everton continued to have width, and moving Gareth Barry to left-back.
Deulofeu was an exciting addition, missing one great chance but providing constant menace. He played his part in Everton's fine attacking performance, especially in the second half.
Rodgers was forced to keep Sturridge on the bench as he nurses a thigh injury, but again the manager was positive when he finally introduced the striker for midfield anchor Lucas for the last 11 minutes.
It could have backfired as Lukaku put Everton ahead shortly afterwards but credit to the Liverpool manager as Sturridge headed Liverpool's 89th minute equaliser.
DECISIONS THAT COULD HAUNT CHELSEA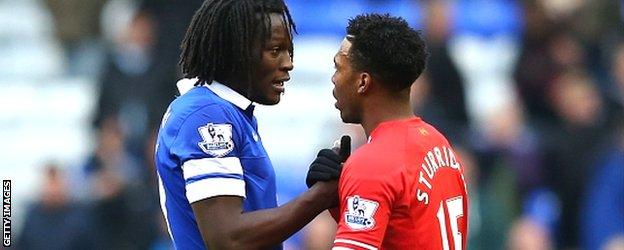 Everton's two-goal hero Romelu Lukaku slumped into the arms of Liverpool striker Daniel Sturridge at the final whistle - two strikers with something in common.
Lukaku is the man who was regarded as before the start of the season and allowed out on loan for the second successive campaign, while Sturridge was last January after failing to establish himself at Stamford Bridge.
Surely Chelsea would welcome one or both now? Lukaku has been magnificent for Everton. It took the giant Belgian an hour to work his way into this derby but he ended up scoring twice, could have had others and was a serious threat.
Sturridge has barely been able to stop scoring for Liverpool and was at it again on Saturday. Have Chelsea missed a trick?
At least they can welcome Lukaku back - but surely this was simply further evidence that Mourinho should have kept him this season?
DOWD CALL MIGHT HAVE SAVED EVERTON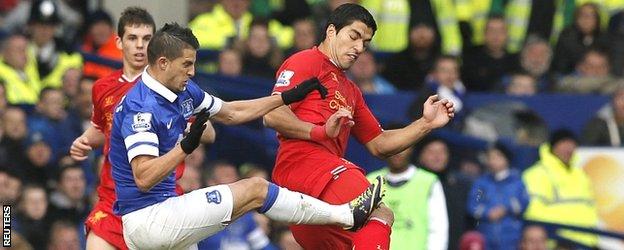 Should Everton's Kevin Mirallas have been sent off for his reckless first-half challenge on Liverpool striker Luis Suarez? Martinez, predictably, labelled it a striker's challenge made without malice. it was the sort of tackle that had the potential to end a player's career.
Mirallas and Suarez have history. The Everton player was injured by a bad challenge from Suarez in last season's derby at Goodison Park - although there was nothing to suggest this was in Mirallas's thinking here.
Referee Phil Dowd took his time to reach a decision but got it wrong. Mirallas's tackle was high, late and ticked all the boxes for a red card.
He escaped to play his part in both of Lukaku's goals having scored Everton's first.
It was all part of the finest Merseyside derby in years - one which carried the stamp of two progressive managers.