Robbie Savage: Slick Manchester City obliterate shot-shy Spurs
Last updated on .From the section Football

In his regular BBC Sport column on football tactics, Robbie Savage looks at Manchester City's thumping 6-0 win over Tottenham.
Individual defensive errors proved costly for Tottenham at Etihad Stadium on Sunday, but the most obvious difference between the two sides was in attack.
Spurs just never looked like turning their superior possession into clear chances, let alone goals.
City had less of the ball but, when they got it, they did a lot more with it.
They moved the ball quicker than Tottenham did, were far more dynamic and ambitious with their passing going forward, and a lot more clinical with their finishing too.
Defending is usually Spurs' strength but they were all over the place at the back and Andre Villas-Boas's team were completely obliterated.
City slickers
There is a big debate at the moment about which Premier League team has the best pair of strikers, from Luis Suarez and Daniel Sturridge at Liverpool to Robin van Persie and Wayne Rooney at Manchester United. It changes every week.

But Sergio Aguero and Alvaro Negredo have linked up so effectively at City this season that, as I said on Match of the Day 2, on current form you could argue they are the best partnership in the world.
Aguero and Negredo are both so strong and hard-working and they bring people into play as well as score goals themselves.
They now have 15 between them in the Premier League compared to 18 for Suarez and Sturridge, and 13 for Van Persie and Rooney. When they have started for City, they have won five games. When they have been split up, City have only won twice.
Between them, Aguero and Negredo offer everything - pace in the channels and power in the air.
And, crucially, they stay close to each other; a lot of the time they are both in the area. They both want to score goals and City break so quickly that it is difficult to stop them.
Aguero's second goal was a perfect example of a superb team goal, with pace. Yaya Toure and Negredo combined, then Toure charged forward before crossing for Aguero, who was in space and waiting in the area.
Tottenham's troubles
Spurs prefer to only use one striker and, especially for a 25-minute spell in the first half between City's first and second goals, Sunday was the same story as when I saw them against Everton earlier this month.
They had lots of possession - as much as 63.5% just before City went 2-0 up - but aside from Kyle Walker's cross that saw Erik Lamela's shot hacked clear by Martin Demichelis, their only real efforts on goal were both from outside the area.
Roberto Soldado fired wide and Jan Vertonghen hit a free-kick straight at Costel Pantilimon.
Tottenham's biggest problem is that they do not get the ball in the box enough. Their wide-men do not stay wide, and they do not get enough crosses in. Soldado did not receive any service.
City's defending was not totally convincing but they were never seriously tested because of the lack of creativity in the Tottenham midfield and there was not even a hint that Soldado would do any damage.
Touches in Man City vs Tottenham

Roberto Soldado (Tottenham)

Sergio Aguero (Man City)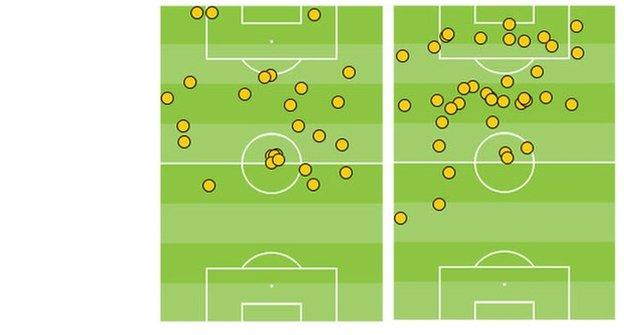 Soldado has a reputation for being a great finisher from his time in Spain but he does not get into dangerous positions. As usual, he was isolated up front against City, which is not his fault, but he does not help himself when he drops deep or goes out to the wing.
He is hardly ever in the opposition area - he only touched the ball twice there against City. Compare that with Sergio Aguero, who had nine touches in the Tottenham box, scoring with two of them.
Soldado did much of his work in and around the centre circle - his touches in there came when he kicked off after each of City's goals - which is not what you expect from a £26m striker in a game where your team has dominated possession for long periods.
Because of that, Soldado managed only that one shot in 61 minutes before being replaced. Aguero (five) and Negredo (four) had nine between them.
Pellegrini's problems on the road
City have won all six of their home Premier League games, scoring 26 goals and conceding two.
Away from the Etihad Stadium, they have only won one out of six, scoring eight goals and letting in 10.
| Man City in the Premier League | Home (rank) | Away (rank) |
| --- | --- | --- |
| Total passes | 3,236 (3rd) | 3,419 (1st) |
| Passing accuracy | 86.9% (1st) | 87.42% (1st) |
| Average possession | 56.13% (6th) | 62.39% (1st) |
| Shots for | 79 (4th) | 77 (2nd) |
| Shots on target | 47 (1st) | 34 (2nd) |
| Shots to goals | 32.91% (1st) | 10.39% (10th) |
| Goals scored | 26 (1st) | 8 (=4th) |
| Shots against | 53 (=2nd lowest) | 56 (1st lowest) |
| Shots on target against | 16 (=2nd lowest) | 21 (4th lowest) |
| Goals conceded | 2 (=1st lowest) | 10 (=10th lowest) |
| Points dropped from winning positions | 0 (=1st) | 6 (20th) |
But if you look at their home and away statistics, they match up on the road in key areas like passing and possession, and shots, where they compare favourably to the rest of the Premier League too.
Only their shots to goals ratio drops significantly away from home, where they score less and concede more too.
To put it simply, their away games have been closer, meaning errors are more costly.
And it is mistakes that have cost them most of their points on their travels, from Joe Hart's dash from his goal at Stamford Bridge to their defence going missing at Villa Park.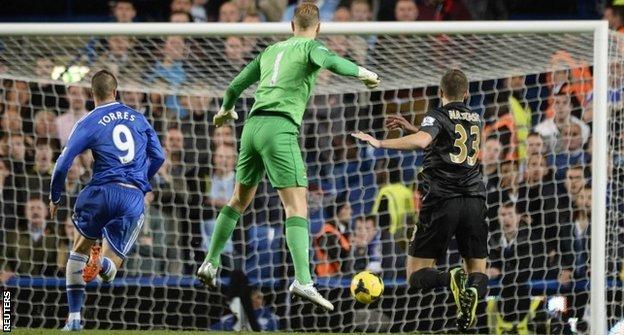 The opposition's mind-set is different too.
At the Etihad, visiting teams sit off City and give them respect. The onus for them is to try not to get beaten so they hold back and wait for City to attack. Once they go a goal down, they find it very difficult to change the direction of the game.
Playing away, City are against teams who are in front of their own fans and who are going to get in their faces more, right from the start.
As City have found, even when their opponents go a goal down they do not stop looking for the win.
City try to play the same way they do at home but it is not as easy as that. You have to earn the right to do that by imposing yourself on the game and City have not been doing that.
They have dropped more points (six) from winning positions than any other team and in those games, against Cardiff and Aston Villa, they were never more than one goal in front.
Their opponents never gave up, and they were able to make the most of some uncertainty in City's defence.
City manager Manuel Pellegrini has been unfortunate with injuries at centre-back, where he has used seven different partnerships in 12 Premier League games.
Only two of those pairings (Matija Nastasic with Vincent Kompany, and Nastasic with Demichelis) have started and finished more than one game together.
Elsewhere in the side, however, Pellegrini's selection has been his choice and he has got it wrong - such as in City's defeat at Chelsea when he left out Negredo to strengthen his midfield.
It is decisions like that where it is clear he is still learning about life in the Premier League.
Manchester City's centre-backs in Premier League games this season

Opposition

Result

Start

Start

Sub (min)

Newcastle (h)

W 4-0

Kompany*

Lescott

Garcia (71)

Cardiff (a)

L 3-2

Garcia

Lescott

Hull (h)

W 2-0

Nastasic

Lescott

Stoke (a)

D 0-0

Nastasic

Garcia

Man Utd (h)

W 4-1

Nastasic

Kompany

Aston Villa (a)

L 3-2

Nastasic

Kompany

Everton (h)

W 3-1

Lescott

Kompany*

Nastasic (34)

West Ham (a)

W 3-1

Nastasic

Garcia

Chelsea (a)

L 2-1

Nastasic

Demichelis

Norwich (h)

W 7-0

Nastasic

Demichelis

Sunderland (a)

L 1-0

Lescott

Demichelis

Tottenham (h)

W 6-0

Nastasic*

Demichelis

Lescott (45)

* = enforced substitution through injury