Southport: Alan Wright promises response ahead of Luton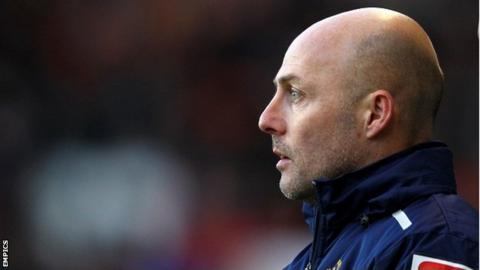 Southport manager Alan Wright has promised to lift his disheartened squad after their second consecutive heavy defeat in the Conference Premier.
The Sandgrounders were hammered 5-1 at Aldershot Town on Saturday.
"Conceding after 40 seconds means all the preparation you have made goes out of the window," said Wright.
"Individually and collectively we just weren't at the races and now I have to lift the players for Tuesday's trip to Luton - which I will."
The defeat left Southport 18th in the Conference table, just two points above the relegation zone.
Wright told BBC Radio Merseyside: "I got them in at half-time and told them my thoughts, which I can't repeat, and we did get some sort of reaction in the second half which was the only positive to come out of the game.
"The most frustrating thing was, no disrespect to Aldershot but, they'd won one in 11 and had lost the two previous games 4-0, so we told the players they would be looking for a reaction, and they gave us that reaction, but, for some reason, we never stepped up to the plate and managed it."
Wright did say he was satisfied with the efforts of on-loan debutants Richard Brodie, Godwin Abadaki and Joel Logan.
"We know what we are going to get from Richard Brodie. He gave us that physicality up front where he gets hold if it.
"Godwin Abadaki did quite well, he got hold of the ball and he's strong for his stature and will benefit in his next few games.
"Joel Logan didn't give us an awful lot of end product but he worked hard and never gave up, so I was quite pleased with all three."