Wrexham manager Andy Morrell happy with playing cameo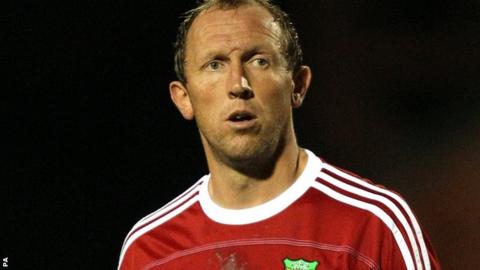 Wrexham manager Andy Morrell still believes he has plenty to offer as a player after scoring his first goal of the season.
Morrell has been featured only four times as a substitute this season.
The 39-year-old came on as a substitute and scored the opening goal in the 2-0 win over Forest Green Rovers.
"I still believe I've got something to offer, just not as regularly as probably I have done over the past few seasons," Morrell said.
Morrell came on for the injured Brett Ormerod after 18 minutes against Forest Green and scored a spectacular volley to give his side the lead.
Fellow striker Andy Bishop was serving the second of a three match ban and Morrell admits injuries and suspensions could force him to play further games.
"I might have to play while there's a few suspensions and injuries going on," Morrell told BBC Radio Wales Sport.
"Without Bish and [with] Brett getting injured there might be a need for me to play a little bit more over the next few weeks.
"I thought I'd play this year but I've got six, seven strikers in my squad that I believe in. I don't know necessarily if I'm the answer to it.
"But I'm still fit enough and I train so when called upon and when needed I can go on and do the job.
"It just so worked out that it worked ok on Saturday."
Morrell's assistant Billy Barr believes the former Blackpool and Coventry City player can still play an important role on the pitch this season.
Barr revealed Morrell had taken some persuading in including himself in the squad for the home Conference Premier game against Forest Green.
"He wasn't even going to put himself on the bench at 1pm," Barr said.
"Oakesy [coach Michael Oakes] and myself managed to talk him around. We know what he's got.
"He trains every day, he's fit enough and we've had arguments galore over it and he's won.
"He came on the other night [against Dartford] and hopefully now that's the start of him being involved with the first team squad on match day instead of being just the manager."