Oxford United boss Chris Wilder hails Ryan Clarke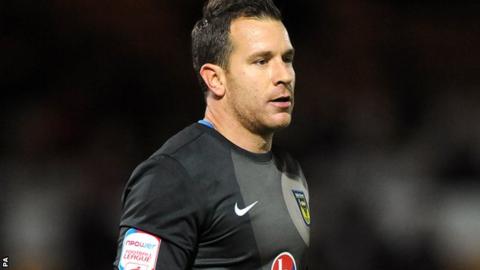 Oxford boss Chris Wilder has hailed the signing of keeper Ryan Clarke as one of the best he has made at the club.
Clarke joined United in 2009 and celebrated his 200th start for the club against Newport on Tuesday with his second successive clean sheet.
And Wilder has paid tribute to the 31-year-old after he helped the U's earn a 0-0 draw against the Welsh side.
"He has been an outstanding signing for a free transfer four-and-a-half years ago," Wilder told BBC Radio Oxford.
Clarke arrived from Northwich as competition for Billy Turley having previously had spells at Salisbury, Forest Green, Kidderminster and Southend.
He faced retirement in July because of shoulder injuries but Wilder says his longevity is down to his dedication.
"I brought Ryan into the club and knew a bit about him from his time at Salisbury," added Wilder.
"He has been superb, the way he conducts himself on and off the pitch. The way he trains, there were a lot of surprised people when we brought him in.
"Billy was a fans' favourite but we saw something in Ryan and he has gone on to have a great stint at the club and long may that continue.
"He has had two shoulder operations, they could quite easily have put other people away, but he is strong mentally and physically and I'm glad he's in our goal and nobody elses."
Clarke, who is out of contract with the U's this summer, says he would love to stay at United for as long as possible, and with the club still top of League Two, he believes this season could end in glory.
"It's been great, and would be lovely to get another 200 behind me," Clarke said.
"Chris brought me to the club five years ago. It was a no brainer to come, it's such a great club, I love it here.
"My contract is up at the end of the year and although I'm not thinking about that I would love to stay. It's been a great five years and hopefully this will be a great season for us."
Clarke cites the play-off final in 2010 that saw the club return to the Football League as his favourite match for the U's, in contrast to this summer when he feared for his career.
"I'm not going to lie, it was a big operation for me to have both shoulders done," he said.
"It was hard to take but I stayed positive and worked hard. It was biggest challenge of my career but with a lot of determination I got there and I'm really enjoying my football."