England down to 13th in Fifa world rankings, Scotland up to 33rd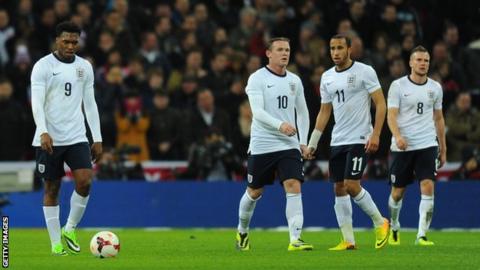 England have dropped out of the top 10 in November's Fifa world rankings, moving down three places to 13th.
The fall comes after they lost twice in five days at Wembley, going down 2-0 to Chile and 1-0 to Germany.
Spain remain top with Brazil - as low as 22nd in June - up one place to 10th.
Scotland have moved up two places to 33rd, but Republic of Ireland (67th) and Wales (56th) dropped seven and 12 places respectively, while Northern Ireland remain unmoved in 90th.
Germany, Argentina and Colombia remain second, third and fourth, while Portugal have moved up nine places to fifth.
The new rankings will not alter the seedings ahead of the World Cup draw on 6 December, with Fifa using October's rankings to confirm the top seeds, which England are not part of.
After England dropped to 17th in September, their lowest position for 12 years, they had climbed seven places to 10th with wins over Poland and Montenegro.
But they now sit 13th on 1,041 points with Portugal, Brazil and Greece moving above them.