Green Brigade defend Celtic banner display despite Uefa action
Last updated on .From the section Celtic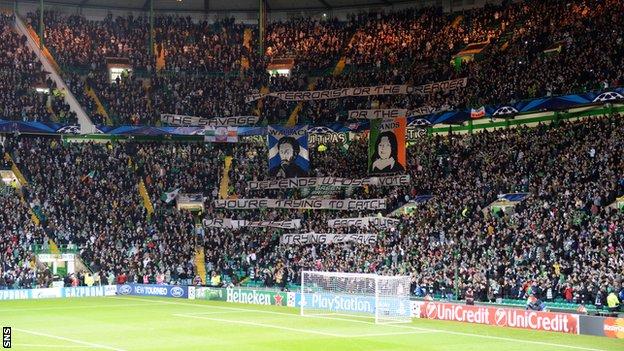 A group of Celtic supporters known as the Green Brigade have defended their actions despite a Uefa disciplinary charge over a banner display.
Celtic chief executive Peter Lawwell accused the self-styled "ultras" group of damaging the club's reputation.
But the fans defended their right to "cultural and political expression".
The Green Brigade are known for their banner displays and chanting, and Celtic have made it "abundantly clear" that "only football-related displays would be permitted and that any political display would lead to a Uefa charge".
The case will be dealt with by the Uefa control and disciplinary meeting on 11 December.
Lawwell described the banners as "nothing more than clear disrespect for the club," adding that their behaviour was damaging Celtic's reputation.
Celtic were previously fined by Uefa over a banner displayed during a Europa League tie against Udinese in 2011.
And a penalty was imposed when supporters set off fireworks during a Champions League qualifier this season.
Celtic have previously warned supporters in section 111 of the stadium, known to house the Green Brigade, over their future conduct and that they could face being relocated.
However, in a statement, the Green Brigade criticised the Scottish Government for legislation that, it argues, deems "expressions of Irish identity, culture and politics" illegal.
"Given that it is Celtic fans who are filling up prison cells and court rooms because of the Offensive Behaviour at Football Act, and the manner in which it criminalises legitimate expression of political opinion, this display could not have been more relevant in the current context," the statement added.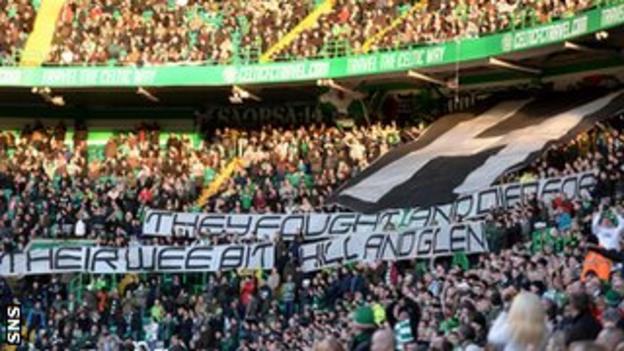 "The fans are the lifeblood of any football club and to deem fan issues as irrelevant is frankly disgraceful.
"While we understand and sympathise fully with fans who may disagree with the timing of [Tuesday night's] display we are honest enough to admit that the timing was of no coincidence. This act has been in place for over 18 months yet the club have offered next to no support to the fans on this matter.
"As a group, we were told that Celtic Football Club would publicly support the fans on this issue.
"Regrettably, this has not transpired in spite of the fact that public pressure could have had a telling impact on the justice committee as they discussed the possibility of an early review of the act.
"It is our opinion that the level of apathy from Celtic PLC towards the criminalisation of their supporters is unforgivable.
"We find their accusation of the Green Brigade disrespecting the club to be completely ironic and totally laughable when we consider the level of disrespect they have repeatedly shown to their supporters for far too long.
"As the number of Celtic fans banned from games continues to grow and the court cases and all additional baggage piles up, we will stand by them, we will stand with the Celtic support and as always we will defend our right to cultural and political expression."
Ajax were earlier this month fined £21,000 for an offensive banner displayed by fans at their Champions League game against Celtic in Amsterdam.
Meanwhile, the Scottish Professional Football League has received complaints regarding a banner displayed by Celtic fans during their home win against Aberdeen.
A spokesman for the SPFL said: "We have received complaints regarding a certain banner at the Celtic vs Aberdeen match on Saturday 23 November. We are currently investigating the matter to determine if any action is required."