Rangers: Sandy Easdale increases shareholding at Ibrox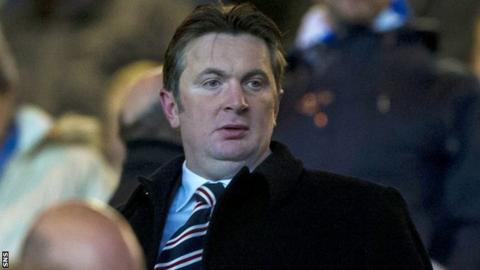 Bus tycoon Sandy Easdale has increased his shareholding in Rangers to 4.52%.
It follows the purchase of 100,000 ordinary shares of 1p each at a price of 44p per share.
Easdale, who in September, now holds voting rights over 23.5% of shares in the League One club.
Rangers have been the subject of attempts by a group of shareholders to force changes to the board and direction of the club.
The group, led by Scottish businessman Jim McColl, hopes to have former chairman Malcolm Murray, former director Paul Murray and two other supporters voted on to the board at the club's 19 December annual meeting.
But Easdale, whose family own the McGill bus group, has
His purchase of shares follows last week's move by Laxey Partners Limited, an Isle of Man-based hedge fund, to
Company founder Colin Kingsnorth said that
In a Stock Exchange announcement, Rangers said: "The company announces that it was notified yesterday that Alexander Easdale purchased 100,000 ordinary shares of one penny each in the company at a price of 44p per share on 27 November 2013.
"As a result, Mr Easdale now holds 2,942,957 ordinary shares in the company, equal to 4.52% of the issued share capital of the company.
"As previously announced, Mr Easdale also holds voting rights over, but does not own, a further 12,352,666 ordinary shares, representing 18.98% of the company, meaning that, in total ,he holds voting rights over 15,295,623 ordinary shares, representing 23.50% of the issued share capital of the company."
Craig Mather resigned as Rangers chief executive in October after McColl's "requisitioners" won a court case forcing a delay to the club's AGM.
However, the board has subsequently appointed David Somers as chairman and Graham Wallace as chief executive and called for the shareholders group to accept that the improvements to the club's governance they have been seeking have already taken place.