Robbie Savage: Chelsea adapted to break down stubborn Saints
Last updated on .From the section Football

In his regular BBC Sport column on football tactics, Robbie Savage looks at Chelsea's fightback to beat Southampton.
Saints came to Stamford Bridge with the best defensive record in the Premier League, having conceded only seven goals in their first 12 games.
They were gifted the lead after 13 seconds by Michael Essien's mistake, but Jay Rodriguez's goal was their only shot on target in the 90 minutes and the game became a test of Southampton's defensive solidity.
Mauricio Pochettino's side dealt well with Chelsea in the first half, but Blues boss Jose Mourinho changed from a 4-2-3-1 to a 4-4-2 formation at half-time, opting for a more direct style, and it worked.
Saints go for another shut-out
When they defended their lead in the first half, we saw why Southampton have got such a fantastic defensive record this season.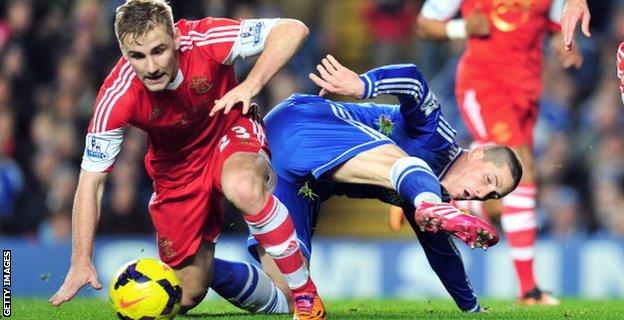 Their back four and the two defensive midfielders Morgan Schneiderlin and Victor Wanyama work hard and are well drilled and, when they have time to get back into their shape, they are very difficult to break down.
Chelsea were getting crowded out in midfield and there was little space for their three flair players - Oscar, Eden Hazard and Juan Mata - to operate in.
The Blues only really threatened when they attacked down the wings but Saints looked pretty comfortable and probably could have done more damage themselves when they counter-attacked.
Chelsea change things round
Mourinho clearly worked out that he needed to put more pressure on the Southampton defence, and fast - before they could regroup after losing possession.
How he did that was to bring on Demba Ba for Michael Essien at half-time and switch to a 4-4-2.
Mourinho gave up trying to pass round Southampton's well-organised banks of players and decided to go over them instead. Having two men up front meant that, straight away, Saints centre-backs were far busier.
Chelsea players' average positions against Southampton

First half (playing 4-2-3-1)

Second half (playing 4-4-2)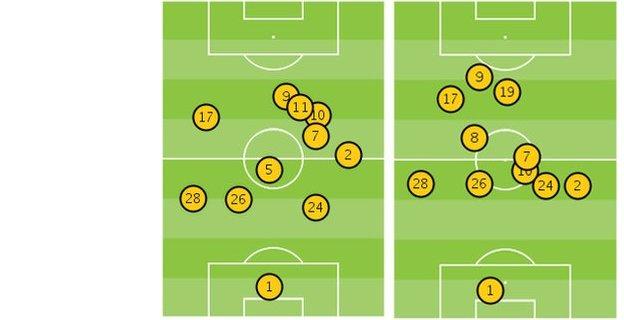 Key

9: Fernando Torres

8: Frank Lampard

10: Juan Mata

17: Eden Hazard

11: Oscar

19: Demba Ba
Chelsea played a much more direct style in the second half, to get the ball up to Ba and Fernando Torres quicker.
That meant they played far fewer passes than normal, and they were less precise - they managed only 163 in the second half compared to 204 before the break and their total of 367 was their lowest of the season at Stamford Bridge, as was their passing accuracy of 73%, compared with their average before kick-off of 84%.
They also had far less possession (50.96%) than in previous home games (an average of 60.4% this season) but Mourinho realised that keeping the ball against Southampton does not really help - if you pass it around in midfield, it just gives them time to regroup at the back.
Putting Ba on also helped when Chelsea lost possession, which happened a lot.
Saints like to build from the back but the Blues had another striker closing down their defenders and denying them time on the ball.
Chelsea's passing and possession in the Premier League this season

Opposition

Result

Possession %

Passes

Passing accuracy %

Hull (h)

W 2-0

51.39%

551

85.66%

Aston Villa (h)

W 2-1

69.18%

677

87.74%

Man Utd (a)

D 0-0

44.79%

448

81.92%

Everton (a)

L 1-0

56.45%

491

83.30%

Fulham (h)

W 2-0

64.39%

604

87.75%

Tottenham (a)

D 1-1

46.49%

343

74.64%

Norwich (a)

W 3-1

55.21%

506

86.36%

Cardiff (h)

W 4-1

64.91%

554

87.36%

Man City (h)

W 2-1

45.47%

396

83.84%

Newcastle (a)

L 2-0

60.95%

535

82.80%

West Brom (h)

D 2-2

67.83%

630

87.46%

West Ham (a)

W 3-0

55.06%

490

82.65%

Southampton (h)

W 3-1

50.96%

367

73.02%

Source: Opta
The change in tactics unsettled Southampton and it was that switch that got Mourinho's men three goals, and three points.
What was surprising was that Chelsea's first two goals were from set-pieces.
In their previous 14 games in all competitions this season, Southampton had only conceded two goals in that manner. Both were against Sunderland - one in the league and one in the Capital One Cup.
Title contenders?
If you are winning games, it does not matter who scores your goals.
But it just looks odd when your strikers are not scoring. Ba did well when he came on and caused Saints lots of problems but his late goal was his first of the season in the league.
It was down to Chelsea's defenders to get their team out of trouble with the first two goals and, as I said on Football Focus on Saturday, it looks strange that their forwards are struggling for goals when Romelu Lukaku is doing so well on loan at Everton.
Chelsea's strikers - and Romelu Lukaku - in the Premier League 2013-14

Lukaku

Ba

Torres

Eto'o

Games

9

5

9

8

Mins on pitch

721

220

495

443

Goals

8

1

1

2

Mins per goal

90

220

495

222

Shots on target

17

4

6

9

Shots off target

4

4

5

7

Shooting accuracy

81%

50%

55%

56%

Chance conversion

38%

13%

9%

13%

Source: Opta
What can Mourinho do about it? Well, playing with Torres and Ba together up front was effective against Southampton but you would never say that Chelsea should do that on a regular basis.
Their usual system with three creative players behind a striker in a 4-2-3-1 formation works and suits the flair players they have got. What Mourinho doesn't have is one striker like Lukaku who is scoring goals for him.
Still, he has the depth in his squad to change things round when things are not going to plan, and his players battle for him too - they have picked up eight points from losing positions this season, more than any other top-flight team.
I would not say Chelsea are exciting to watch but they keep going and keep working hard.
The best teams with the best players have all got that work ethic and under Mourinho they will always have it even when they are not playing well.

Southampton are hard-working too - they have to be to make their high-tempo pressing game work - but I am not sure they have got the ability to adapt in the way Chelsea did against them on Sunday.
The best teams with the biggest squads can change things round during games.
Saints' system clearly works but even if the opposition work them out, as Mourinho did, then they have to stick with it because they do not have a back-up plan.
Southampton have lost twice in a week now, to Arsenal and now Chelsea, and those two away games have shown they are not quite up there with the really top teams in the table.
They got good results at Anfield and Old Trafford earlier in the season but they have to be playing at full-tilt for that to happen.
Southampton also do not score enough goals. They have only managed 18 in their last 18 league games going back to April, and only Sunderland have managed fewer than that. It is not good enough for the top four.
For me, Chelsea will finish in the top three with Arsenal and Manchester City, although that could be in any order.
Everybody else is fighting for fourth, including Manchester United, Liverpool Tottenham and Everton. Making the top eight would be fantastic for Southampton, and I cannot see them finishing any higher.