Rene Meulensteen: Fulham boss will draw on Man Utd experience
By David Ornstein
BBC Sport
Last updated on .From the section Football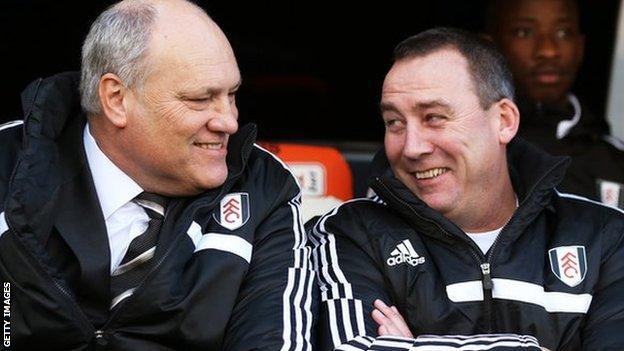 Rene Meulensteen spent Sunday afternoon buying sofas for the house he will shortly move into, having been living in a hotel since he was appointed Fulham first-team coach less than three weeks ago.
When his wife called from the family home in Cheshire to discuss their options, the Dutchman's mind was for once focused on something other than football - but not for long.
The phone rang again and this time it was Fulham chief executive Alistair Mackintosh. Meulensteen suspected nothing untoward - the pair have a strong relationship and enjoy regular conversations.
Mackintosh then delivered the news that would turn Meulensteen's career on its head.
He was now in charge of Fulham.
The sofa shopping would have to wait. A face-to-face meeting was immediately scheduled for Sunday evening.
Meulensteen and Mackintosh urgently needed to talk through a development that, contrary to suspicions, Meulensteen was not expecting or seeking at this stage.
There is no doubting the 49-year-old's managerial ambitions and, during conversations with Mackintosh and Fulham owner Shahid Khan prior to his arrival, the possibility of Martin Jol eventually moving 'upstairs' to a more overseeing role with Meulensteen in charge of the team was mentioned.
Jol happily confirmed this to me at October's Leaders in Football conference.
But Meulensteen was fully committed to working alongside his fellow Dutchman, confident of using the knowledge and experience gained from his time as a trusted aide of Sir Alex Ferguson at Manchester United to improve Fulham's fortunes.
Despite having few previous dealings with one another, Jol was in favour of Meulensteen's recruitment and they spoke at length to share ideas and formulate plans.
Unfortunately for the Cottagers, there has been little evidence of improvement in the two games since Meulensteen came in.
After learning of his promotion, he got straight on the phone to Jol and the 57-year-old wished his successor well.
With Fulham the oldest squad in the Premier League and three points adrift of safety, both men know how crucial it is for Khan to make funds available to Mackintosh during the January transfer window.
Either side of his success at United, Meulensteen endured forgettable spells as boss of Brondby in Denmark and Russian side Anzhi Makhachkala - he was also unsuccessful in his interview for the Wigan job in the summer - but he does not lack self-belief and is relishing the chance to turn Fulham around.
He initially rejected the chance to join the club - and also turned down the manager's position at Bundesliga side Nuremberg - amid talks with the Qatar FA to become its technical director ahead of the 2022 World Cup.
Meulensteen is held in high regard there having led the Qatar Under-18 team as well as Al-Ittihad and Al-Sadd, but this is undoubtedly the biggest opportunity and challenge of his career to date.
During a recent interview for the BBC's Football Focus, Meulensteen showed off a room in his house that is covered with photographs and mementos of his success.
Off camera, he also showcased an incredibly impressive PowerPoint presentation he created to aid Cristiano Ronaldo's rise to greatness, and numerous fascinating coaching documents he has produced.
Now Meulensteen will hope to transfer some of that magic to Fulham.