Arjen Robben: Bayern Munich player pleased with form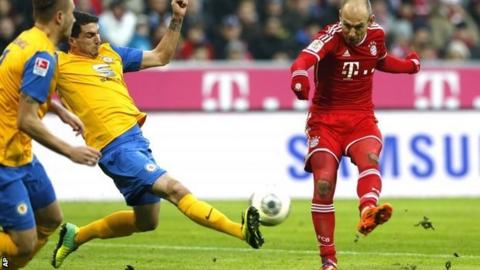 Bayern Munich winger Arjen Robben says he feels good after scoring twice in
The 29-year-old has the fourth best goals-to-minutes ratio in Bundesliga history after scoring his 50th and 51st goals in 90 league games, a goal every 125 minutes.
"Statistically, I've done my best work at FC Bayern," the former Chelsea and Real Madrid player said.
"I just feel really good here."
The Netherlands international, who joined Bayern from Real Madrid in 2009, has scored 17 goals and assisted 11 in his last 26 appearances for the European champions.
Coach Pep Guardiola said: "Arjen is very important for our game, he scores a lot of important goals."
Referring to Robben's injury-troubled past, the Bayern boss added: "He's not been injured yet, touch wood."
Goalkeeper Manuel Neuer added: "Arjen has often decided matches in the past, he's always valuable to us."
Robben, who scored within two minutes against Braunschweig, said: "We said beforehand we wanted to go for it from the start and score an early goal, it always makes it easier."