Referees unhappy with 'leniency' of Nadir Ciftci's suspension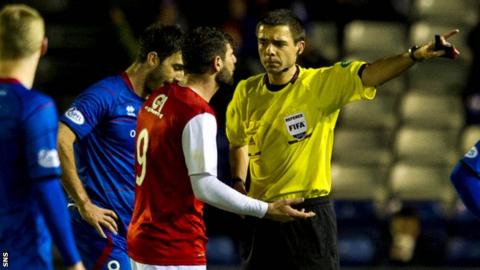 Scotland's top referees have expressed "deep dissatisfaction" with the suspension handed out to Nadir Ciftci.
The Dundee United striker was banned for two matches for manhandling an assistant referee in a game in October.
The Scottish Senior Football Referees' Association said the punishment sends out "completely the wrong message".
It now wants talks with the Scottish Football Association and a review of the governing body's duty of care responsibilities to match officials.
The SFA said they were "yet to receive any formal correspondence from the Scottish Senior Football Referees' Association".
"It would have been befitting of a members' organisation such as the SSFRA to seek an explanation for the outcome directly, without the need for such inflammatory media comments," the governing body added.
Ciftci was initially cited for "seizing hold" of official Gavin Harris "by the throat" after being sent off following a mass brawl on the pitch.
But the 21-year-old player was later charged with "placing an open hand into the lower area of the assistant referee's throat".
One match of the ban is to be served immediately while the second game is suspended until the end of season.
A statement from the referees' association said: "We feel this sends out completely the wrong message on issues surrounding the protection of match officials at all levels of the game in Scotland.
"Following a weekend of action taken by some of our members in 2010, assurances were given by the SFA that it would take very seriously the protection of referees."
Ciftci was sent off during a League Cup match against Inverness Caledonian Thistle at the Caledonian Stadium.
His red card was downgraded to a yellow following the Turk's successful claim of wrongful dismissal for violent conduct.
In 2005, Hearts winger Saul Mikoliunas was given an additional five-match ban on top of a three-game suspension for two red cards in a game against Rangers, having barged into assistant referee Andy Davis when disputing a penalty award.
The Lithuanian was charged with "exceptional misconduct", while Ciftci was found guilty of "excessive misconduct".
Ex-referee Stuart Dougal, an official at Euro 2004, thinks his former colleagues are right to question the penalty.
"I would say the punishment certainly doesn't fit the crime," he told BBC Scotland.
"I think most fair-minded people, never mind ex-referees, would say this is not right.
"To miss one match for what is in effect an assault on a match official is way out of kilter with previous punishments."