Welling United: From under-15s team to FA Cup heroes
By Rob Stevens
BBC London & South East Sport
Last updated on .From the section Football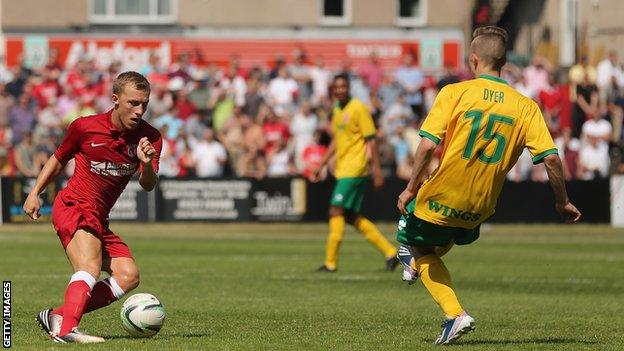 For a club formed to play in an under-15s league on Sundays, Welling United have not done too badly.
Fifty years on the Wings, who now play in Conference Premier, are looking to make the third round of the FA Cup for the second time in their history, when they take on Plymouth this weekend.
Chief executive and secretary Barrie Hobbins formed the club with his brother Graham in 1963 and recalls how it all started for the London club.
"Graham was 15 when we started playing in a local park in 1963," Hobbins told BBC London 94.9.
"He was the goalkeeper but he needed an adult to take control of the club, in terms of the admin. I was six years older.
"I think my brother got called Mr Welling because he was the bossy one and he used to do everything. I did as I was told."
Formed with just one youth team playing local league football on a sports ground at Butterfly Lane in Eltham, the club expanded its youth system before embarking on a period of Saturday football in the London Spartan League.
Welling joined the Athenian League in 1978 and were elected to the Southern League three years later. They won the Southern League Premier Division in 1986 and spent 14 seasons in the Conference before relegation in 1999-2000.
"You don't plan it," Hobbins said. "It is just the way it works out.
"It took a lot of enthusiasm, hard work and dedication. You don't get rich from running a football club.
"It developed from under-15 football, Sunday football, into minor Saturday league football and then onto the Athenian League and then the Southern League.
"The biggest break came in 1977 when we were able to move to Park View Road following the unfortunate demise of Bexley United."
Welling returned to the top tier of non-league football this season after winning the Conference South title but Graham was not around to see it, having passed away six years ago.
"Graham was pretty good at most of the things he did," Hobbins said.
"Without him it has been difficult but now we've got his son on board.
"There is always something going on and to to do. You don't get carried away sitting in an office and doing nothing.
"You have got to turn your hand to everything."
Jamie Day took charge of the Wings as player-manager four years ago, and with the part-time club currently mid-table in the Conference Premier, the former Arsenal trainee is proud of what he and his management team have achieved so far.
"Each year we have slowly developed," said Day, 34. "We have stepped up and done OK. There is still a long way to go.
"Older managers will say the test will come when results don't go your way and you need to turn it around.
"We want to keep developing. The platform we are at now is a fantastic learning curve for us."
Welling have overcome Brislington and Luton Town to make the second round of the FA Cup and they will travel to League Two side Argyle on Saturday.
The Wings have only made the third round once before. That came in 1988-89, when they were knocked out by Blackburn Rovers after the then Division Two side won 1-0 at Park View Road.
Sidcup-born Day was at the ground that day.
"Welling is my local club and I am proud to play for them," he said.
"My dad used to take me quite a bit. A lot of people went to watch them in the Conference and they had good cup runs.
"I went to the Blackburn game and I'd never seen the ground like that before.
"It has come quite early in my managerial career to get to the second round.
"I'm looking forward to testing myself against a League manager and get to tactically test myself. Hopefully we get it right."
Interviews with Welling United player-manager Jamie Day and chief executive Barrie Hobbins by BBC London 94.9's Ian Williams.