2014 Fifa World Cup: England can conquer heat, humidity and travel
By Tim Vickery
South American football expert in Brazil
Last updated on .From the section Football
Travelling around Brazil during the 2014 Fifa World Cup is likely to have its stressful moments for England fans.
I know England are bound to be well supported in Brazil, but those of you flying across the Atlantic next year should be aware that things will not always be straightforward.
I had to travel to Bahia to work on the World Cup draw for BBC TV at the weekend but the journey did not go entirely to plan, with my plane out of Rio delayed by more than three hours.
One of my fellow passengers was a football fan, wearing the shirt of his team, Fluminense. He was on his way to watch his club struggle to avoid relegation in Sunday's last round of the Brazilian Championship.
He recognised me from my appearances on Brazilian TV, and as the delay kept growing he came over and said: "You'll have a good subject to discuss on the programme tomorrow." He then added what has become the customary slogan used in such situations: "Imagine this happening during the World Cup."
It is an all too real concern.
Airport capacity has long been seen as the weak point of the 2014 project. My delay was down to a tropical storm shutting both airports in Sao Paulo, and thus creating a knock-on effect through the system. This is less likely in June and July - but then there is more chance of airports in the south being forced to shut for a while because of mist.
As well as the potential for delays, there is also the cost. The country's domestic airlines operate a 'what the market will bear' pricing policy. An important task of the government over the next few months is to use its leverage to prevent the airlines from charging absurdly high prices.
And then there are hidden costs. Many of Brazil's airports lack mass transport options on arrival so passengers are forced to take taxis, which can be expensive even if the driver plays fair with the price.
Travelling around Brazil during the World Cup is likely to have its stressful moments.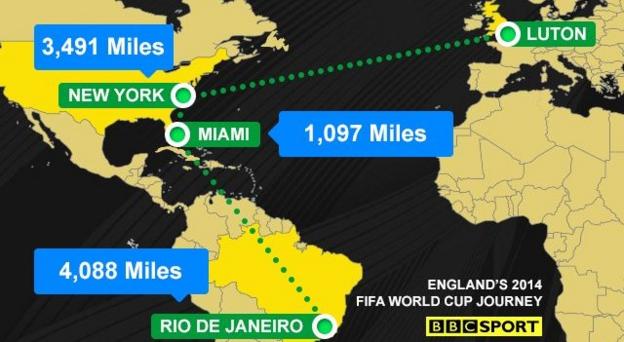 In this sense, Roy Hodgson's England have not done badly out of the draw. True, there is the trip to Manaus, right up in the north, for the opening game with Italy.
With its tropical humidity, it is the venue that Hodgson had specifically wanted to avoid. But the fact that the visit to Manaus is for the first game in theory may make preparations easier. And one trip to Manaus is probably a price worth paying in return for the location of England's two remaining group games - Sao Paulo, where they take on Uruguay, and Belo Horizonte, where Costa Rica will provide the opposition.
These are two cities in the south east, where the weather will be much milder. Italy, meanwhile, play their other group matches in the sweltering north-eastern heat of Recife and Natal, with both currently set for controversial 13:00 kick-offs (local time).
England, then, have undoubtedly come out of the draw better than the Italians - especially bearing in mind that England's plan has been to base themselves in Rio de Janeiro.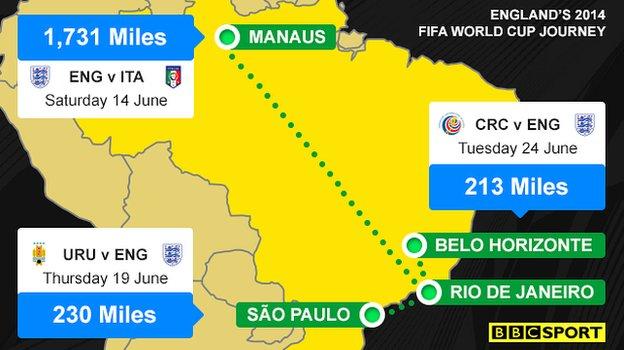 Had they received Italy's fixtures then this would have made little sense - all of Italy's matches are far away from Brazil's glamorous former capital. But in England's case Rio makes perfect sense - it is a 45-minute flight from both Sao Paulo and Belo Horizonte.
This is also good news for the fans. True, the Manaus trip will cost money. Plane fares from Rio are likely to be very steep. For a wealthy supporter who wishes to combine the World Cup with some tourism in the Amazon rain forest, this is perfect. But for those unable or unwilling to shell out such sums, it makes more sense to stay in the south east.
Here, the advantage is that Rio, Sao Paulo and Belo Horizonte are all so close that air travel is not the only option.
During the Confederations Cup, for example, I was unable to find an acceptable air fare to get to Belo Horizonte. Brazil were playing their semi-final against Uruguay there, and prices had gone through the roof.
I took the overnight bus (a six-hour trip), stayed for the game, did my work and then took the bus back. Bus travel is a cheap and available option for moving between all of the three major cities of the south east.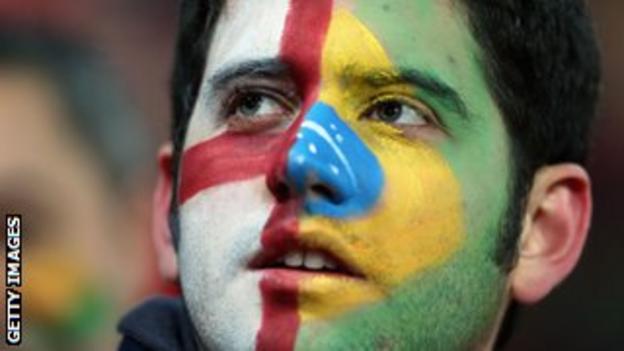 England fans will also enjoy the nightlife options in both Sao Paulo, with its many restaurants, and Belo Horizonte, known for its bar culture. For the culturally minded, Belo Horizonte is also within easy distance of several historical towns.
Combined with the beaches of Rio, there is plenty on offer for a wonderful World Cup experience - made all the better, of course, if England can win what would seem to be the crucial second game against Uruguay.
Can the England defence cope with the opposing strike force of Luis Suarez and Edinson Cavani? Have the rest of the Uruguayan team grown too old together?
Fascinating questions, which will be debated over a bottle of wine in a Sao Paulo restaurant, with a cold beer in a Belo Horizonte bar, or nursing a caipirinha beside the Copacabana beach.
Imagine that happening in the World Cup - a heart-warming thought to hold over the next seven months.