David Moyes: Manchester United manager thankful for home support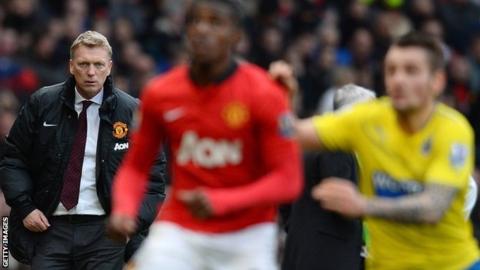 Not an awful lot is going David Moyes's way at the moment so you can understand why the Manchester United manager is grateful that many of his team's fans remain on his side.
A few boos rang out around Old Trafford when the final whistle blew on Saturday's deflating defeat by Newcastle, and it is also true that some supporters had voted with their feet and already left.
But, significantly, most of the Stretford End had stayed and were on their feet to applaud the Scot and sing his name as he headed for the tunnel to contemplate another disappointing display and a second home setback in a week.
It was a meaningful message: while the reaction to the loss from United's millions of followers on social media was predictably poisonous, inside the stadium - where it matters the most - Moyes still has the majority of supporters behind him.
Moyes was quick to thank them in the media conference that followed, saying: "I think the United fans have been great. Great to me, and great to the club.
"They understand there is a big transition going on here. I don't think they, or me, expected us to have lost five games at this time of the season but I think they understand totally there is a change going on."
He is right. Nobody has seen the scale of that change more than the fans who have watched United go from a team that won the title in a canter under Sir Alex Ferguson last season, to an outfit floundering in mid-table this time around.
Moyes was particularly fortunate to retain their backing after such an insipid display because it is not as if his side gave them much to be positive about against the Magpies.
When the Red Devils fell behind to a Yohan Cabaye goal there was still 29 minutes of normal time to be played.
But, other than a Robin van Persie effort which was ruled out for offside, there was not even a sniff of the kind of late onslaught that, in Ferguson's day, would have been the fate of any team who had the audacity to take the lead at Old Trafford.
Magpies boss Alan Pardew, who incidentally backed Moyes to eventually get things right, inadvertently highlighted how much things have changed in the space of a few months when he answered a question afterwards about whether winning at Old Trafford was his side's best result of the season.
Newcastle had already beaten Chelsea, and overcome Tottenham at White Hart Lane but Pardew said: "This is above those, because this is a difficult place to come, in terms of the stadium, the aura of it and how you have to concentrate for 90 minutes.
"We came here in December last year and we were 3-2 up with 19 minutes to go and we lost 4-3 after a couple of errors in that period cost us. Today when we scored, that was what I was most concerned about.
"You have to concentrate and play every moment to win here, and we did that. I hope the players get the credit they deserve."
Pardew is half-right, because his team did perform well on Saturday. But this time, in contrast to 12 months ago, Newcastle were almost completely comfortable.
And the problem for Manchester United is the "aura" which Pardew describes is disappearing fast, as other teams are picking up landmark wins too.
Before this season, Newcastle had not won at Old Trafford for 41 years, West Brom for 35 years and Everton for 21. All three have left with three points, while Southampton got a draw.
Even so, there is still no serious suggestion Moyes's job is at risk, something reflected in the mood in the media conference after the Newcastle game.
And despite the fact his side are ninth and could be 15 points adrift of Arsenal by the end of the weekend, Moyes is still being asked about the title race, which he insists his side can still be a part of.
He has evidence to back that belief up, like November's win over leaders Arsenal, or the 5-0 Champions League demolition of Bayer Leverkusen in Germany just 11 days ago, but he can ill-afford many more off-days otherwise the fans - and the questions - might turn nastier.
Not that Moyes is getting an easy ride from the media. His relationship with his squad is under almost as much scrutiny as results at present as people look for any evidence of disharmony in the camp.
Rio Ferdinand's claims this week, for instance, that his manager's policy of naming his team at the last moment turns him into a 'madman' were hardly helpful but they are nothing compared to the rumours concerning United's most important two players.
When he started his Old Trafford tenure, everything Moyes was asked seemed to be about Wayne Rooney's future. Now he is having to contend with speculation over Robin van Persie too.
When quizzed after the Newcastle game about comments from BBC Sport's football pundit Mark Lawrenson that Van Persie is unhappy, Moyes paused for thought, looked visibly annoyed for the first time, then responded forcefully, saying: "That is absolute nonsense.
"I don't know what harder or tougher word I could say to you than that. That's as good as I've got."
If more defeats do follow, it is vital for Moyes and United that situation does not change, and talk of any dressing-room friction remains fiction.
Because, although Moyes may well come in for more stick from more fans next time they lose at home, if he loses the backing of his best players, his problems will truly begin.