Robbie Savage: How David Moyes can save Man Utd's season
Last updated on .From the section Football

In his regular BBC Sport column, Robbie Savage looks at how Manchester United can bounce back from successive home defeats by Everton and Newcastle.
United are ninth in the table, 13 points behind Premier League leaders Arsenal and, as I have been saying since the start of the season, they are not going to win the title.
Moyes cannot come out and admit that himself after 15 games because he would get slaughtered by United's fans, but his new minimum target in the league is now fourth place because that is what they are fighting for.

He has to try and win every other competition he is in too. That is the remit for United, which might be different for how it was for Moyes when he was at Everton.
Their form in the Champions League has been very good and they should win their group to ensure they avoid the big teams in the last 16. But the FA Cup and Capital One Cup are important now too because they are both trophies he can win.
Is Moyes the right man to take United forward? Definitely, but this is what he needs to do to turn things around.
Build a new back-line around Phil Jones
When people talk about United's squad the focus is always on their weakness in midfield, but defence is also a problem area.
Rio Ferdinand and Nemanja Vidic have been magnificent for United but age is catching up with them - they are 35 and 32 now - and they are becoming more and more injury prone as well.
They were fantastic in their prime but in recent seasons they have had less and less influence, because the sight of them lining up together has become rarer and rarer.
United have not had a settled partnership in central defence this season and, although that is something that Sir Alex Ferguson coped with in his last campaign in charge, it is far from ideal.
Moyes needs to establish his first-choice pair. When he does that, he has to think who he will be building his defence around in the future, and the answer is clearly not Ferdinand or Vidic.
Instead he needs to look to Phil Jones. His best position is going to be at centre half and that is where Moyes needs to play him now if he is to make the most of his talent.
Jones's problem at the moment is that he also plays in central midfield and right-back and, to be a top centre-back, you need to learn how to play that position properly.
If that means playing Jones regularly there for the rest of this season, then Moyes has to do it. Even if Jones plays badly there, he cannot do much worse than United are doing at the moment.
What he needs is an experienced centre-half alongside him for him to learn from, which is where Vidic or Ferdinand would come in. Neither of them can play every game any more, but either of them could show Jones the ropes.
Sort out the Rooney and Van Persie speculation
Moyes had to deal with the whole Wayne Rooney transfer saga as soon as he took over in the summer: He said Rooney was staying, and he did.
Now he is having to respond to rumours that Robin van Persie wants to leave.

Moyes came out after the Newcastle game and said that was "nonsense" and I believe him, but those stories are not going to just go away.
With Rooney, United also still need to sort out his contract, which ends in the summer of 2015.
I am sure they will give him a new deal because, with the form he is in, there is no way they are going to let him leave - but they need to send out a message that their best two players are happy and staying at the club.
Clearly Moyes needs both of them, especially with his lack of creativity in midfield.
Alan Shearer made a fantastic point on Match of the Day on Saturday night when he pointed out how, with Rooney suspended against Newcastle, Van Persie had to drop deep to get on the ball.
When he did that, Van Persie played a fantastic long diagonal ball to set up Javier Hernandez for a shot but what should be happening is that somebody should be playing that pass to Van Persie.
The bottom line is that there is not enough quality in United's midfield to hit that sort of ball.
Robin van Persie touches

vs Newcastle on 26 Dec 2012

vs Newcastle on 7 Dec 2013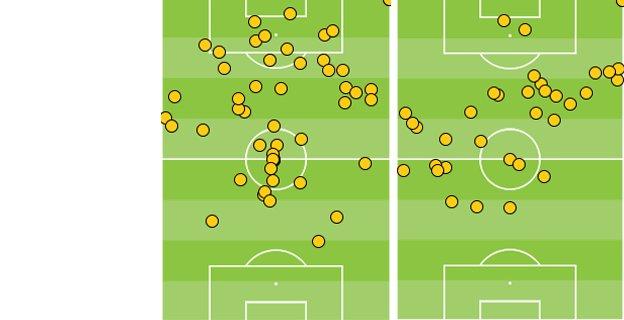 Robin van Persie v Newcastle (stats: Opta)

On 26 December 2012

On 7 December 2013

Minutes played: 90

Minutes played: 90

Goals: 1

Goals: 0

Shots on target: 2

Shots on target: 0

Shots off target: 4

Shots off target: 0

Total passes: 31

Total passes: 22
Compare it to last season's home game against the Magpies, on Boxing Day, when United were again without Rooney and had Van Persie and Hernandez up front - but had Paul Scholes and Michael Carrick in their midfield, not Tom Cleverley and Jones.
A year ago, Van Persie touched the ball 10 times in the Newcastle area, had six shots and scored once. This time he only touched it twice in the Magpies box and his only effort at goal was the header he had ruled out for offside.
United also came from behind three times to win 4-3 on that day. They never looked like doing anything similar on Saturday.
Moyes should do things his way
The worrying thing for me on Saturday, far more than the actual result, was to hear Moyes say afterwards that Van Persie should have come off after 60 or 70 minutes because he is not completely fit.
Moyes said he left him on because United were chasing the game and, if he had replaced him, everybody would have said 'what is he doing?' even though it was the right thing to do.
For me, if Moyes is worried about the reaction he will get to his substitutions, then he is feeling the pressure.
At Everton, he would have done what he wanted and not cared if the fans booed, because he would have thought: 'I know what I am doing.'
He has to believe in what he is doing again, and not worry about what the Old Trafford crowd think.
Don't panic buy in January
A lot of people are saying United need to spend big in the January transfer window but I don't think they should, and I don't think they will make a major signing in any position in January unless there is an emergency because of injuries.
What if it means they miss out on a top four finish and the Champions League next season? Well, I don't think that will mean they cannot attract the players they want: This is Manchester United we are talking about.
I still believe that, hypothetically, if Tottenham, Everton or Newcastle finished in a Champions League spot and United finished fifth then, if as a top player you had the choice to go to Spurs or United, you would still go to United.

You would know that, if United missed the Champions League one year, they would make absolutely certain they made it the following season by making an absolutely huge investment in the summer.
They failed to get many of the players they wanted during the summer, but United still need to plan their next signings properly, and not panic-buy next month.
I am convinced that is what happened when Moyes bought Marouane Fellaini in September, because I cannot understand why else he signed him.
Sort out the squad: who needs to go
I am hearing a lot at the moment that this is the squad that won the title.
So what? That did not do Manchester City much good last season, did it?
Yes, Moyes still has the players that won last year's title but, undoubtedly, all the other top teams have strengthened over the summer and United did not.
So he needs to bring some faces in but he also has to decide who he no longer wants and move them on.
I am sure he has made a few decisions on that already but the problem he has is that, on current form, he seems to have more players who are not up to United's standards than the ones who are. Their passing, possession and shooting statistics are all down on the previous two campaigns.
Man Utd in the Premier League (and rank)

2011-12

2012-13

2013-14

Goals/shot ratio

18.9% (1st)

19.8% (1st)

14.7% (5th)

Passing accuracy

85.5% (4th)

85.7% (1st)

83.0% (8th)

Average possession

57.9% (4th)

56.3% (4th)

54.2% (9th)

Stats: Opta
Not every United player has to be a genius but, to play for them, you need a level of consistency every week and also the ability to pass the ball the right way.
When you play in an average Premier League team, you think that a pass to feet is a good pass, and eight out of 10 times it will be.
But United need players who know how to weight a pass just right, to put it in front of them so they can run on to it and continue the momentum of the attack.
One of the problems they have at the moment is that the quality of passing from their midfield is not up to those standards. Too often, it is to feet or behind the forwards or wide players. That is why they have not been playing with their old attacking freedom.
Target some top-class talent
United definitely need two new central midfielders next summer - one to unlock opposition defences, one to shield their own.
Michael Carrick seems to have become an even more important player while he has been out with an Achilles injury, because United have only picked up two points in four games while he has been sidelined.
They have missed his ability to keep the ball, and they do not have another defensive-minded player in their squad.
As far as their lack of creativity is concerned, Southampton's Adam Lallana would be my pick to put that right. He is young and proven in the Premier League, and he and Carrick would be a good mix in the middle.

In defence, United keep getting linked with Leighton Baines for obvious reasons, after failing with a bid for him in the summer.
But, if I were Moyes, I would go for another Saints player, Luke Shaw, instead as Patrice Evra's replacement at left-back.
Shaw is 18, has a great attitude and looks a big talent.
He has followed Theo Walcott and Gareth Bale out of the Saints academy and they clearly teach their young players the right way. It is a great breeding ground for players to do well at bigger clubs.
United need a new striker too.
Yes, Moyes has options in that department with Danny Welbeck and Hernandez, but we have seen this season that Hernandez does not have the same impact when he starts games as he does when he comes off the bench.
With David de Gea in goal, Jones at centre-half and Rooney and Van Persie in attack, Moyes still has the basis of an excellent team.
Adnan Januzaj is going to be a fantastic talent too, but United need more quality in midfield before they have the spine of a side that is going to be successful again.