Manchester City are dangerous - Pep Guardiola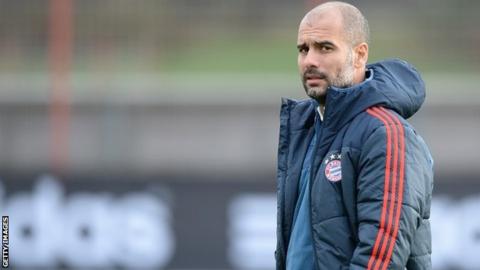 Bayern Munich boss Pep Guardiola said he is wary of the threat of Manchester City ahead of Tuesday's Champions League meeting.
The European champions have won all five Group D matches, but a three-goal defeat by City in Munich would see the English side take top spot and, in theory, an easier round-of-16 tie.
"I know how dangerous Manchester City are," Guardiola said.
"They have great players - they can get three or four chances within minutes."
Both sides are already through to the knockout stages but Guardiola, whose side beat Werder Bremen 7-0 on Saturday, will not relax against a side who have scored 58 goals in 21 games this season.
"My players have to really concentrate and be aware of the situation. We have a very big chance to be first in the group and that is what we have to aim for," the former Barcelona boss said.
"Coming second in the group is not really an option for us. It is something we want to avoid."
Because of City's 3-1 defeat by Bayern at Etihad Stadium, they would need to better that scoreline to overtake the Germans in the group.
The Spanish coach said: "If we don't play well, City could get one, two, three goals.
"If you look at last season's tie against Arsenal, Bayern won there 3-1 and then at home they lost 2-0.
"What is important is what happens now. We have a game ahead of us that will start at 0-0."
When asked about reports linking City with Bayern keeper Manuel Neuer, Guardiola added: "No chance."