Shaun Derry: Notts County's supporter-boss is living the dream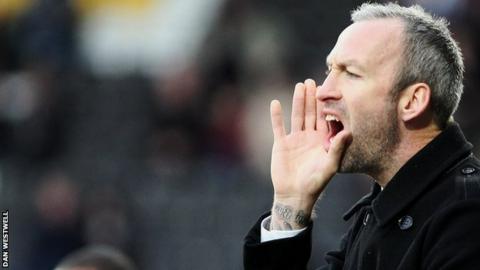 Heard about the football fan who rang up the club he has supported from the age of six and asked for the manager's job?
Shaun Derry has. It was him. And it worked.
The Nottingham-born Notts County supporter and recently installed Magpies boss is living out the dream of many a young lad. The big difference being that, as a player with more than 650 career appearances mostly at Championship level and above, his enquiry wasn't some sort of computer game fantasy.
And he wasn't laughed out of his hometown club when he called Magpies chief executive Jim Rodwell last month.
"This is my club and I keep a close eye on it and I just had an urge," Derry told BBC Sport. "And I backed it up by giving the chief executive a call.
"I obviously said the right things and proved I was the right man for the job. Now I have to back that up with results and improve things."
The only problem with Derry's dream job is that from the outside it looks like a nightmare. There is a fair amount that needs improving.
Notts were bottom of League One when Chris Kiwomya left at the end of October and the traumatic past 12 months is pretty much standard fare in the club's turbulent recent past. Years of struggle in the lower reaches of the Football League looked to be coming to an end in spectacular style when the 'Munto millions' arrived in the summer of 2009.
But the wealthy investors turned out to be nothing of the sort and the reality hit again.
Ten men have been in charge in one form or another in less than five years.
Since Ian McParland's two-year reign ended in October 2009, the average stint for a Meadow Lane manager is less than six months.
Derry, who came through the youth ranks at Notts, was not perturbed. He regularly repeats the phrase "my club" and is clearly relishing his return.
"One week I was playing for Millwall in the the Championship, the next I was a manager on the touchline in an FA Cup tie against Hartlepool," the 36-year-old said.
"Things have changed for me, but I have loved every minute of it.
"All my family live in Nottingham. I had my YTS as a Nottingham boy for Notts County. It was the team that I supported from six until I pulled on the shirt at 16 for the youth team.
"Wherever I have been in my career, I have always wanted Notts to do well."
Wanting them to do well is one thing. But turning the passion, fighting qualities and boundless energy that has characterised his playing career into results is another matter.
Notts were dumped out of two cup competitions in Derry's first two games - the second game a humiliating 5-1 Johnstone's Paint Trophy defeat against Oldham Athletic.
Derry demanded an immediate response and told his players they had to shape up.
Three league defeats in five since then do not tell the whole story. Notts were unfortunate to lose 1-0 to one of the title favourites Wolves - a display that Derry said set the standard for the rest of the season.
The Magpies were also unlucky to lose against another promotion hopeful, Brentford.
But Derry has said the regular feeling of having to trot out another 'we played well but we lost' post-match speech was beginning to irk him.
Last weekend the first win arrived - a 3-1 success against Gillingham. Notts are still bottom of the league but are now only win from safety.
"Do I feel any pressure? Not at the minute because I know what we are doing every day is right. And I know what the players are achieving is right," the former Sheffield United, Leeds, Crystal Palace and QPR midfielder explained.
"But I put pressure on myself every day - of course I do, because as soon as you rest on your laurels you are in trouble.
"We have to change the mentality and slowly but surely that is happening.
"What I have tried to do here is replicate what I am as a player, and that is hard work, respect for the job and enjoyment. They are the values I want the lads to show every day.
"I am very proud that I have done everything right for my career as a player. I have never shirked a day's training. Some days I have not wanted to go out there for various reasons but I have always given it 100%.
"If it's not right at least I can say I have done everything I possibly can. I don't think you can be any other way as a person."
The man Derry credits with shaping his career certainly followed that ideal.
But his mentor, former Notts boss Neil Warnock, started with some tough love. One of Warnock's first acts was to get rid of Derry.
"He is the biggest influence on my career - even from an early stage at Sheffield United when he sold me to Portsmouth," Derry said.
"As a young player at 22 when you get told you are not wanted it affects you. I was still living in Nottingham and still living at home and I had to go and stand on my own two feet. That was a massive decision in my career."
To show there was no hard feeling Warnock twice signed Derry in the coming years, for Crystal Palace and QPR.
Derry added: "I have learned so much from him but the one standout thing that Neil taught me was to get the right people into the dressing room, people you trust.
"Ability will only get you certain places but the character can get you places you've never been before. He didn't teach me that, he showed me that with the decisions he made."
Derry's Notts homecoming has lifted spirits, but he is well aware of the task he still faces.
And he has already felt the impact his new job has had at home with his wife and two young children.
"This is a 24-hour job," Derry said. "But I try to switch off. The kids want dad home and my wife wants a husband. I was at home on transfer deadline day and I was on my phone all day and I thought 'wow this is meant to be a day off' and she was sat there looking at me in amazement.
"But my wife understands what this game is all about. It's a bit of a wrench for the kids that dad is away so much. But it will all be worth it.
"Notts County and the job I have is major, major, major at the minute, but not as major as my family."
Derry has probably spent more time in the company of his assistant manager Greg Abbott than with his wife in the past five weeks.
"I wouldn't be sat here without Greg," Derry said. "I am under no illusions that I wouldn't have been offered the job if I didn't have an experienced number two. Greg has been fantastic."
And Abbott's experience and man-management skills may well be called upon very soon.
League regulations mean Derry cannot play at the moment because he has already appeared for two clubs this season. Notts are looking into the possibility of challenging that.
"I said as soon as I took the job I would like to make a good enough impact on the lads to enable me not to play and I stand by that. I want the boys to have the opportunity to get us out of trouble," added Derry.
"If this rule changes I will have to step up my training intensity and look at it. I will judge myself if I am good enough to play. Or maybe Greg will have to hook me."