Football fixing claims: When is 'match-fixing' not match-fixing?
By Ed Hawkins
Sports betting expert
Last updated on .From the section Football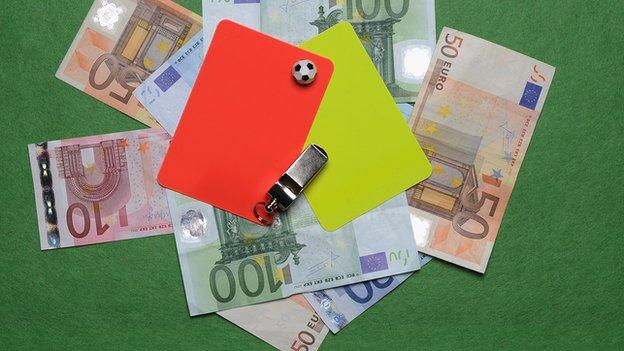 Football is never far away from its next scandal and allegations of match-fixing certainly dent the reputation of the beautiful game. But is it right to call the recent claims of wrongdoing "match fixing"?
Sam Sodje, a former Portsmouth player, was filmed by an undercover reporter claiming he could arrange for footballers to be booked for a £30,000 fee and a sending-off for £50,000 to £70,000 in order to facilitate betting fraudsters. Six people have been arrested, including DJ Campbell, the Blackburn Rovers striker.
Emotive terms like "plague" and "cancer" have been used in the media and there have been calls for fixers to be banned for life, but why has no-one asked whether it is actually possible to make substantial amounts of money by betting on yellow and red cards?
The answer - and the awkward truth - is that it is impossible. No matter which expert is asked, they all say the same.
While there is a window of opportunity to make some financial gain on the goals-related market if a fixer has information about a red card being awarded, the world's leading anti-corruption officer, Chris Eaton, claims it is the sort of "small-fry" wager that would not interest crime syndicates.
To explode the myth that massive amounts of money are being made by people betting on yellow and red cards, let's examine in detail how the regulated bookmakers in the United Kingdom and the licensed and unlicensed Asian bookmakers operate.
In the UK, it is possible to bet on an individual player being cautioned during a match, but gamblers are restricted to small stakes for fear that such betting opportunities can be manipulated.
Every regulated bookmaker has software that will alert staff to a suspicious betting pattern.
Graham Sharpe, who has worked for bookmakers William Hill for 42 years, says: "The average bet on a yellow-card market would not even be £100. It's fivers and tenners.
"So if we saw one bet above the average wager, we'd raise an eyebrow. If we saw two, we'd begin to investigate. Any more than that and we'd have to shut the market."
For Tuesday's Champions League match between Manchester United and Shakhtar Donetsk, a game United won 1-0, bookmakers Victor Chandler said they took 36 bets on the "to receive a yellow card" market, only 0.75% of their pre-game turnover.
As for Sky Bet, who have a maximum payout of £1,000 on yellow cards, they reported insignificant amounts. Unibet and 888Sport were the only other firms to offer the wager.
But what of the Asian industry where we are told much of the corruption in football takes place?
The gambling dens in that part of the world have a mysterious reputation. A few years ago, the punter wanting to make a bet in the streets of Jakarta or Hanoi would need a password to access the bookies who had set up in the backroom of a karaoke bar.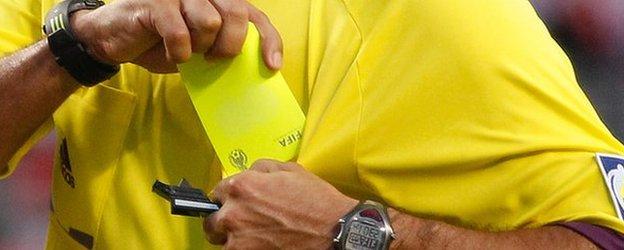 But this subversive glamour is the past. The hideouts and holes have been replaced by gleaming office blocks, 24-hour call centres and websites, so that gamblers can get their bet on.
Gambling in Asia has gone corporate.
Anti-corruption investigators call this new-look industry "the grey market" because they are not quite sure how it works. As for match fixers, they use it because they are able to stake unrestrained amounts in a faceless manner. But can they make a killing by betting on yellow or red cards?
"No chance," says Joe Saumarez Smith, a sports betting consultant who has been advising Asian operations for 21 years. "You cannot bet on a yellow card being given to an individual player or a red card being given to an individual player in Asia. Bookies don't offer odds.
"I would say that 90% of money wagered is on Asian handicaps - a goals-related market - but the rest is on the match odds and over/under a certain amount of goals.
"I can't think of any way to make money from the information about a yellow card."
A red card could work in favour of corruptors but only if they knew exactly when a player would be dismissed.
With that inside information, a fixer would be able to "trade" the goal markets in Asia much like someone could a stock price if they had company secrets. The likelihood of goals in a game increases after a sending-off, so if bets are placed just before a card is issued - timing is crucial - the change in odds gives the fixer a margin for profit.
It can be complex and confusing for the layman to understand, so let's put it another way. If someone buys 10 loaves of bread for £1 each just before a chronic food shortage, then sells one back for £10, the money they make by offloading the rest is pure profit.
Eaton, the former head of security at Fifa who is trying to set up a global fixing taskforce, argues inaccurate revelations are a hindrance to curbing the problem of betting corruption in football because it propagates falsehoods.
"It's misinformation," he says. "Corrupt attitudes have been uncovered, no more. I do think this sort of media story is harmful. People talk about spot betting as if it's a huge conspiracy but this is just wrong. It's inconsequential in terms of quantum.
"The quantum in football is all on a significant result or the number of goals scored. We're talking about significant field outcomes here, not yellow cards, red cards to satisfy criminal organisations.
"People will talk about 'trading' the odds for a red card, but I think that's small fry. It's becoming a common lexicon and by doing that we're confusing the issue by talking about these trendy, boutique bets. They mean almost nothing."
Eaton, whose current role is as sports integrity director at the International Centre for Sports Security, says it is possible that such smaller "fixes" could be used as a test.
"The fixers want to know how trustworthy these guys are so they give them something simple to do," he says. "It is someone proving they have other people under their control."
In that regard, the recent revelations are similar to the infamous News of the World sting that saw three Pakistan cricketers convicted of deliberately bowling no-balls in a Test match at Lord's in 2010.
Salman Butt, Mohammad Asif and Mohammad Amir went to prison for conspiracy to cheat at gambling, defined under the Gambling Act of 2005.
But just like the yellow cards in football, there is no opportunity to make significant amounts of money by betting on a no-ball, legal or illegal.
Yasin Patel, the lawyer who defended Butt, says sport, the legal profession and the courts must get to grips with the nuances of legal and illegal betting if corruption is to be checked.
"Footballers' reputations and livelihoods are at stake here," he says. "People cannot be arrested or charged under match-fixing just because a newspaper headline screams the term. Everyone needs to be smarter and speak to the experts. We all want sport to be clean but we have to clean it up using the laws of the country in the right manner."
It is also unlikely that a footballer could be charged with conspiring to defraud when it comes to fixing yellow or red cards because the sums involved are minimal.
The National Crime Agency could instead look to the new bribery act to take any case to court, which does not, according to Patel, fall under the criteria of corruption in sport.
So that is neither match fixing nor spot fixing. Nor is it quite the spicy plot line some would have us believe. For the good of the game and for attempting to stop the scourge, that has to be made clear.
Bookie Gambler Fixer Spy: A Journey to the Heart of Cricket's Underworld by Ed Hawkins was shortlisted for the recent William Hill Sports Book of the Year award