Champions League: How will the British clubs do in the last 16?

By Phil McNulty
Chief football writer
Last updated on .From the section Football409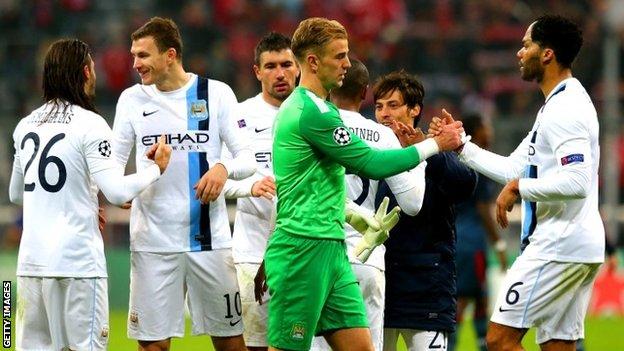 The Premier League's four representatives have all made it through to the last 16 of the Champions League - but the final round of group matches threw up a twist in the tale for Arsenal and Manchester City.
Arsenal made it out of the group stage for the 14th consecutive season but defeat in Napoli, coupled with Borussia Dortmund's late win in Marseille, left them in second place and contemplating the toughest of assignments in the knockout phase.
As for Manchester City, manager Manuel Pellegrini has received heavy criticism for his perceived miscalculation and accusations of failing to realise one more goal in their 3-2 win against Bayern Munich in the Allianz Arena would have put them top of Group D and pointed towards an easier draw.
Chelsea and Manchester United topped their groups - but did any of the English quartet make a convincing case to actually be taken seriously as potential winners of the Champions League?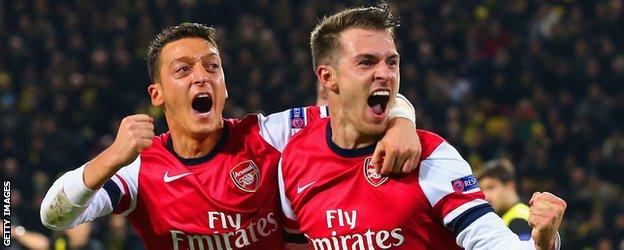 Arsenal
POTENTIAL LAST 16 OPPONENTS
Bayern Munich

Barcelona

Real Madrid

Paris St-Germain

Atletico Madrid
Arsenal actually deserve congratulations for working their way out of the toughest group in the Champions League draw - one that looked full of hazards when last season's runners-up Borussia Dortmund and Rafael Benitez's Napoli were in the same section.
The task is illustrated by all three teams finishing on 12 points and Napoli will feel desperately frustrated to go out with that tally and see Galatasaray and Zenit St Petersburg go through with seven and six respectively.
But there can be no disguising the disappointment Arsenal will surely feel at the missed opportunity in those final moments of the group when Dortmund scored late on in Marseille while they were losing in Italy.
And, as they reflect, Arsene Wenger's obvious frustration at losing to Dortmund via a late Robert Lewandowski goal at Emirates Stadium becomes even more understandable. It was harsh on Arsenal and Wenger's "if you can't win make sure you don't lose" lament now carries even more resonance.
There must be optimism too, though. This was a tough group and Arsenal demonstrated, at times, that with a kind draw there is hope they can make their way further into the tournament.
Napoli were well beaten at home but the stand-out performance was one of control and maturity to win 1-0 against Dortmund in the intimidating surroundings of their own Westfalenstadion.
Wenger hopes Arsenal will finally receive what he regards as some overdue good fortune in Monday's last-16 draw - the problem is that there does not seem to be a lot of good fortune lying around when you study their potential opponents.
Paris St-Germain and Atletico Madrid would be regarded as the "weaker" options if you prefer to avoid Bayern Munich, Barcelona and Real Madrid but both would still be very serious examinations for Arsenal.
The impression also lingers that while Olivier Giroud has excelled this season, Arsenal could still benefit from the addition of a world-class striker, hence the summer pursuit of Liverpool's Luis Suarez and Gonzalo Higuain, who scored against them for Napoli.
So while the verdict must actually be about a job done, those final acts in this group may prove to be very expensive.
Chelsea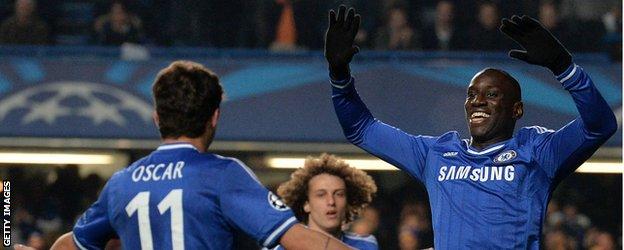 POTENTIAL LAST 16 OPPONENTS
Bayer Leverkusen

Galatasaray

Olympiakos

Zenit St. Petersburg

AC Milan
Chelsea's form in reaching the last 16 has been patchy and in places very unconvincing, especially in losses home and away to FC Basel, their only wins in a group in which Jose Mourinho's side were always favourites to progress.
Mourinho places such store on reaching the Champions League group phase it has led him to more or less label Chelsea's Europa League win last season, under his great adversary Rafael Benitez, as meaningless.
But he will also know Chelsea will have to produce much better performances once the knockout stages start if they are to win another European honour this season.
But Mourinho's record in the tournament means he must never be underestimated and none of their potential opponents in the last 16 will cause him a tremor.
It would, of course, be the romantics' choice to see Didier Drogba - the great Chelsea icon and the inspiration behind their Champions League win against Bayern Munich in their own Allianz Arena in 2012 - back at Stamford Bridge with Galatasaray.
Chelsea should be able to navigate past any of those opponents if they produce anything like their best but their group form has not spoken of potential winners of this tournament. Improvement needed.
Manchester City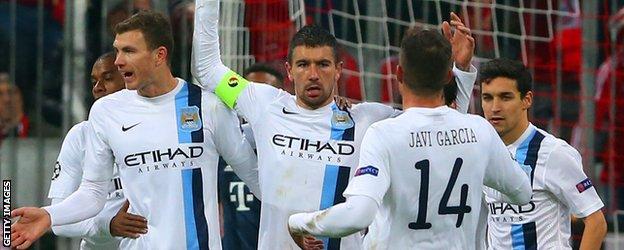 POTENTIAL LAST 16 OPPONENTS
Real Madrid

Paris St-Germain

Borussia Dortmund

Atletico Madrid

Barcelona
The fact the manager Manuel Pellegrini was apparently unaware that an extra goal would have crucially elevated Manchester City to the top of their group has somewhat overshadowed an outstanding 3-2 win at the home of holders Bayern Munich.
And once the dust has settled on the irritation of what might have been a near miss (who knows what would have happened anyway had Pellegrini thrown caution to the wind?) City can take great confidence into the last 16.
They will need it because, like Arsenal, the list of their potential opponents is a formidable collection.
By winning in Munich, though, City have proved to others - and perhaps more importantly to themselves - that they have the capability to challenge the elite names in the Champions League.
In players such as Vincent Kompany, Yaya Toure, David Silva and Sergio Aguero they have a streak of world-class quality running through the side. The trouble has often been convincing themselves.
Pellegrini has a pedigree in this tournament and it is to be hoped the home defeat to Bayern in the group will also be of benefit to him after getting his tactics wrong and playing Edin Dzeko alongside Aguero, allowing Bayern to overrun City in midfield.
Will he play the burgeoning partnership of Aguero and Alvaro Negredo against the top sides or will he strengthen midfield? Will goalkeeper Joe Hart have shown enough to return for the knockout stages?
One thing is certain. City can take much from the win in Munich, even if they could not take top spot in their group.
And as Pellegrini said when City's qualification was confirmed, no future opponents will be tempted to take them lightly.
Manchester United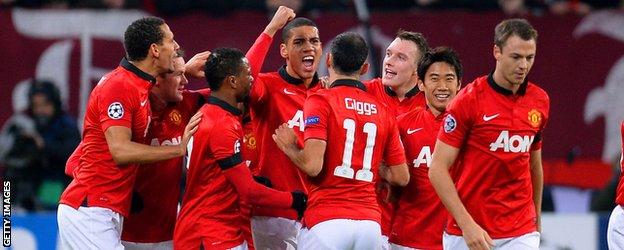 POTENTIAL LAST 16 OPPONENTS
Galatasaray

Olympiakos

Schalke

Zenit St. Petersburg

AC Milan
Manchester United's qualification for the last 16 of the Champions League as group winners has been just about the highlight of a tough start for manager David Moyes in succession to Sir Alex Ferguson.
The outstanding 5-0 win away to Bayer Leverkusen was the best performance of his time in charge so far and the Germans were also beaten convincingly at Old Trafford.
Draws away to Shakhtar Donetsk and Real Sociedad hinted at the less distinguished side of United - but there will be hope that any of the opponents facing them next can be overcome.
There has been no evidence so far, however, to suggest United are in shape to win the trophy they last claimed against Chelsea in Moscow in 2008.
The old questions about a lack of world-class quality in midfield remain. At this stage £27.5m summer signing Marouane Fellaini has looked a bad fit for United in the Premier League, let alone at the elevated level of the Champions League.
The enduring and reliable defensive partnership of Rio Ferdinand and Nemanja Vidic is near the end and now there is an obvious over-reliance on the brilliance of Wayne Rooney and Robin van Persie.
Will United reach the last eight? They should - but it would be hard to see them surviving a meeting with any of the teams you would regard as favourites for the Champions League.