Hull City: FA to consult fans over name change to Hull Tigers
Last updated on .From the section Football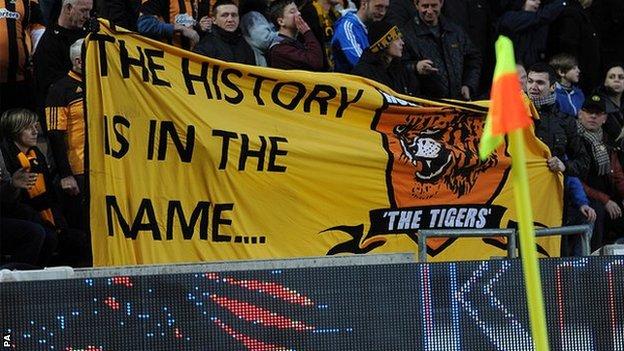 The Football Association will consult supporters during its consideration of Hull City's proposed name change.
"A consultation process will be undertaken with various stakeholders including supporter groups," the FA said in a statement.
The City Till We Die campaign group said it was confident the FA "would make the right decision".
Hull City supporters opposed to the club's name being changed are urging the FA to protect the heritage and traditions of the sport.
The FA have not provided a timescale for their decision, but any application to alter a club's name must be approved by an FA council, which has "absolute discretion" in deciding whether to approve the plan.
Allam has condemned opposition to his plan in controversial terms, suggesting those City fans who chanted "City Till I Die" during games could "die when they want", and that those who unfurled banners were "hooligans" who distracted the players.
The City Till We Die group claims Allam had given an assurance that no name change would go ahead without supporter consultation or without the benefits being proven by research, and that no such research or consultation had taken place.
Its statement said: "This matter is now in the hands of the only people who have the right to make such a decision: the football authorities.
"The FA is an organisation with a rich and proud history; this year, it is celebrating its 150th anniversary. This Saturday, as part of those celebrations, numerous FA dignitaries will be at the KC Stadium to honour Hull-born Ebenezer Cobb Morley, one of the founding fathers of Association Football.
"We remain confident that, with the eyes of the whole footballing world upon them, the FA will make the right decision and act to protect not only the heritage and traditions of Hull City AFC, but also those of other clubs whose identities may come under threat in the future."
The group has received messages of support from fans of many other clubs in the United Kingdom and abroad and will hold a public meeting ahead of Saturday's televised Premier League game against Stoke City.
Supporters Direct, which represents 180 fan trusts across Europe, said the FA should introduce mandatory rules for clubs to consult supporters on changes in name, kit colour or ground, as part of a mandatory democratic process.
In a statement Supporters Direct said: "The very identity of football clubs, and their fans and communities, is simply too important to be entrusted to temporary owners, who are generally more interested in what they can take out of a club rather than what they can put back in, and whose decision-making does not take account of the wider interests of those who count their loyalty in tens of years and generations.
"The most frustrating aspect is that these issues can be so easily avoided by the adoption of some simple principles, and there is no reason why they can't be acted upon right now."