Man City: Away form is Pellegrini's last Premier League problem

By Phil McNulty
Chief football writer
Last updated on .From the section Football668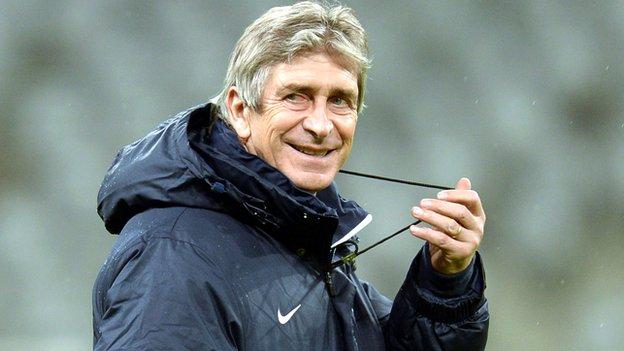 Manuel Pellegrini may have got his calculations wrong as Manchester City overcame Bayern Munich in the Champions League - but one simple equation should tell him how to bring the Premier League back to the Etihad Stadium.
The meeting between the top flight's best home team and best away side ended emphatically in City's favour as leaders Arsenal followed North London rivals Tottenham in conceding six at Etihad Stadium.
And after a performance that even brought the hint of a smile to the face of the notoriously deadpan City manager, the problem facing him was clear.
Pellegrini suffered some withering criticism for his failure to realise another goal in City's 3-2 win in the Allianz Arena would have given them the crucial top spot in their Champions League group, but no such strictures can be aimed at what his team is producing on home soil.
The Blues have lost four Premier League games this season which have all come on the road.
But if the Chilean can find an answer to patchy and unconvincing away form - mysterious given the quality contained in Pellegrini's squad - then the Premier League title is surely Manchester City's to lose.
Arsenal manager Arsene Wenger was desolate. Hopes of opening up a nine-point gap on City were swept away and instead replaced by a slender three-point advantage accompanied by nervous glances into the rear view mirror where increasingly ominous opponents are coming into view.
That includes Chelsea and Jose Mourinho who moved to two points behind following victory over Crystal Palace.
Wenger can at least take consolation in the company of others - and others who also started the season with aspirations of rivalling City.
Manchester United manager David Moyes saw his team beaten 4-1 by City, who visibly eased up in the final 40 minutes of the derby. Andre Villas-Boas faced the most searching questions of his time in charge after Spurs were dismantled. A pattern is emerging.
The manner in which City dealt with Arsenal came as a cold shower to Wenger and his players but at least they have got this harrowing experience out of the way while others must still endure it.
Arsenal's defensive capitulation will raise renewed questions about their title ambitions but the reality is that this has not made them a bad side - it has simply made them a side that struggled desperately in the face of a mind-boggling array of attacking options assembled at the Etihad. No shame in that.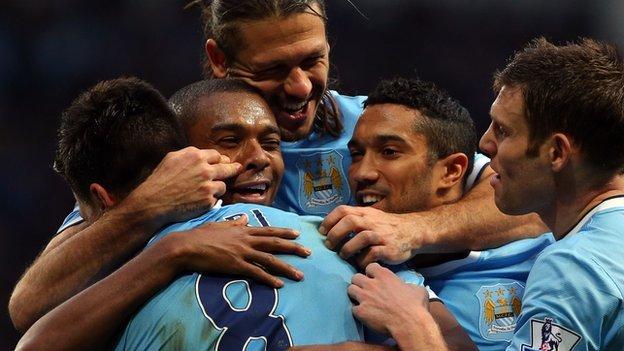 It will intensify scrutiny on the meeting with Chelsea at the Emirates two days before Christmas and Wenger must hope the optimism assembled through the early months of the season - and they are still top of the Premier League let's remember - has not been diluted too much in the face of a strike-force that has capabilities beyond any other in the division.
Arsenal have made great strides in the context of the Premier League this season and one loss - albeit a heavy one - should not be the signal for manager or players to feel a sense of panic.
Wenger refused to clutch at excuses although he made the valid point that Arsenal may have been jaded after their Champions League loss at Napoli and questioned some decisions.
He made mention of some questionable offside calls and an ignored penalty claim when Pablo Zabaleta handled Jack Wilshere's pass. He might even suggest Arsenal could have scored more.
What he must also accept is that City could also have added to the six goals they eventually racked up, and to suggest they were only on a par with Everton and Southampton carried a touch of self-delusion.
"They were not unbeatable today," said Wenger, surprisingly. "They are one of the teams with a chance, of course, but I would not say they are the best team we have played so far this season. Everton were as good as Man City, and so were Southampton."
As he made his way back to London, Wenger may also have to come to terms with the theory plenty have espoused since the season began to unfold. Namely that City will be nigh-on untouchable if they could bolt some decent away form onto the goals and entertainment they provide at home.
Pellegrini was unhappy that City conceded three goals but the sheer force and range of attacking weapons at their disposal meant that every time Arsenal scored they were able to respond with interest.
Sergio Aguero scored his 19th goal in 20 appearances for City this season - but any suggestion of an over-reliance on the world-class Argentina striker was put in perspective by the fact that they scored four goals after he departed with a calf injury.
Alvaro Negredo adds the power to Aguero's stealth and headline-writing finishing ability. Yaya Toure occasionally looked like he was playing in the company of schoolboys, running at pace through Arsenal's midfield at will, brushing off challenges.
And this was the day when Fernandinho, whose £30m transfer fee from Shakhtar Donetsk has raised eyebrows, gave the performance that allowed Pellegrini to justify such vast expenditure. He scored one outstanding goal and got a second with a clinical finish while delivering all-round excellent alongside Toure.
Of course you can pick at the three goals City conceded. Pellegrini did but what a reassuring thought for any manager to know that you can simply outscore any rivals, at least at home.
One conundrum Pellegrini may yet need to solve is Manchester City's goalkeeping position.
It was right that Costel Pantilimon kept his place ahead of Joe Hart as he did nothing wrong in his previous appearance at Southampton but there were moments here that hinted at a vulnerability that could yet cost City over the course of this season.
How Pellegrini handles this, and whether he decides the restoration of Hart is the best option, will provide a fascinating City sub-plot in the coming weeks.
Mourinho's Chelsea are sure to have a big say in the title race but City have the best squad and the most potent attack in the Premier League.
Any prediction is dangerous in this most unpredictable of seasons but it is hard to escape the conclusion that if Pellegrini and City can find some of the form that can elude them away from home, the Premier League title is only heading one way.