West Brom: 'Steve Clarke's honesty comes back to bite him'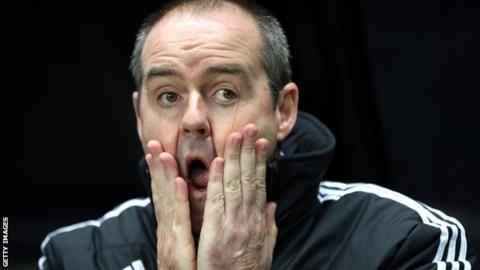 Steve Clarke knew what he was doing in the last week of August at his weekly press conference - but now his honesty has come back to bite him in a painful place.
Clarke was clearly frustrated at West Brom's tardiness in the transfer market last summer as he sought to build on their highest finish of eighth in the Premier League.
Uncharacteristically, the understated Clarke told the media that West Brom needed to pull out their collective finger and sign a few top players.
It was a good story for the reporters, but not if you want to keep in with the chairman, Jeremy Peace. I understand he was unimpressed by Clarke breaking cover and a couple of weeks later, a lengthy justification of the club's transfer dealings was sent out under the chairman's name.
The sub-text was ominous for Clarke: you'd better improve results.
By then West Brom had been involved in a final day trolley dash for players, smashing the club's transfer record twice in a couple of hours, signing Stephane Sessegnon and Victor Anichebe for more than £12m.
They, and the other summer signings, have not been a success and, as West Brom's statement made clear on Saturday night, the players' wages bill is the highest in the club's history.
Striker Nicolas Anelka has been a vanity signing, rarely fit and when he's played, it's been sad to see such a distinguished player struggle. I doubt if Peace was all that keen on signing the 34-year-old in the summer, but by 2 September, the chairman had appeared to accede to Clarke's wishes. All he needed to do now was start winning games.
He didn't, apart from an autumn flourish that saw victory against Manchester United at Old Trafford and a poor refereeing decision rob West Brom of a win at Chelsea.
And that's where luck plays a significant part, as Napoleon famously outlined with his 'give me lucky generals' observation. West Brom had some cruel luck over penalty decisions and conceivably they could've been seven points better off at this stage of the season.
But, just take a look at the facts. Only one win in the past 10 games, nine in the past 41 and just 31 points from the last 34 Premier League matches. That's relegation form. Something the ruthless Peace won't countenance after stabilising the club in the top flight for the fourth successive season. He doesn't dither, agonising sentimentally over the current incumbent's welfare.
Clarke's successor will have to work within the club's structure, operating alongside the sporting and technical director, doing what the chairman says. Coaching expertise is essential.
Ray Wilkins impressed when interviewed in 2012, Derek McInnes, a former Baggies captain and now manager at Aberdeen, has appeared destined to end up up at the Hawthorns again one day, Ole Gunnar Solskjaer won't yet commit himself to a new contract at Molde and experienced old hands like Alex McLeish and Martin Jol are available.
Malky Mackay and Chris Hughton at Cardiff and Norwich are also highly thought of at West Brom and Burnley's Sean Dyche fits the prototype of a young, hungry coach - but Mr Peace doesn't like paying out compensation.
A personal hunch is for Glenn Hoddle. Available, still unfulfilled at English club level, an acknowledged fine coach and experienced, as Roy Hodgson was in 2011. But is he tainted by his time at Wolves and as England manager?
There's only one certainty - that Peace has had a succession plan in place for some time. He always does.