Scotland captain Darren Fletcher returns for Manchester Utd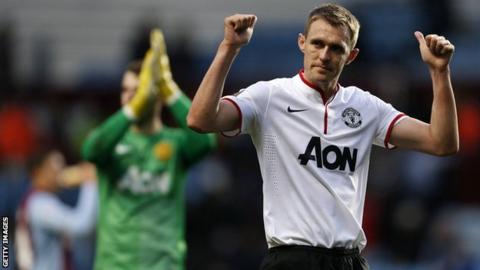 Scotland captain Darren Fletcher made his first-team return for Manchester United after nearly a year out with a chronic bowel complaint.
The 29-year-old midfielder played the final 20 minutes of the 3-0 victory at Aston Villa on Sunday.
"Today was a big message to a lot of people - keep believing," said United manager David Moyes.
"He has had to be on his own, he has been in and out of hospital, he has had operations."
Fletcher was diagnosed with ulcerative colitis, an inflammatory bowel condition, in December 2011 and was forced to take an extended break.
Having made 13 appearances, the illness flared up again 12 months later.
"If anybody returns from an illness to play professional football on this kind of stage for a club like Manchester United, it shows a lot about the boy himself," said Moyes.
"I thought when he came on it looked like had had never been away.
"I was really impressed because we are not sure where he is. He has had a few reserve games and has been training, and you can never tell until he gets into the senior games."
But a cautious Moyes added: "I don't want to put pressure on him and say that is Darren Fletcher back because you just never know."
Fletcher, who won the last of his 61 caps for Scotland in October 2012, declared himself satisfied at his comeback and was touched by the reception he got by both sets of fans at Villa Park.
"I always believed I would come back," he told MUTV.
"Other people around me were trying to make me think otherwise, but I stayed strong and believed I would get back.
"Playing a game like that, and getting an ovation like that, makes it all worthwhile."